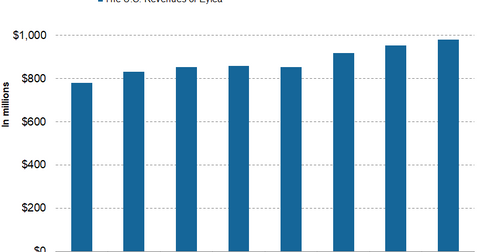 How Regeneron Pharmaceuticals' Eylea Performed in 4Q17 and 2017
By Daniel Collins

Updated
Eylea's revenue trends
Regeneron Pharmaceuticals (REGN) commercializes Eylea in the US market while Bayer (BAYZF) commercializes the drug outside the US market. In 4Q17, Eylea generated net global revenues of $1.6 billion compared to ~$1.4 billion in 4Q16, which reflected ~19.0% growth on a year-over-year (or YoY) basis.
In 4Q17, in the US market and outside the US, Eylea reported revenues of $975.0 million and $637.0 million, respectively, compared to $858.0 million and $496.0 million in 4Q16. This trend reflected ~14.0% and ~19.0% growth, respectively, on a YoY basis.
Article continues below advertisement
In fiscal 2017, Eylea generated net revenues of $5.9 billion compared to $5.2 billion in fiscal 2016. In 2017, in the US market and outside the US, Eylea reported revenues of $3.7 billion and $2.2 billion, respectively, compared to $3.3 billion and $1.9 billion in 2016, which reflected ~11.0% and ~19.0% YoY growth, respectively.
Recent developments
In March 2018, Regeneron Pharmaceuticals presented the results of the Phase 3 PANORAMA trial. Regeneron Pharmaceuticals conducted the Phase 3 PANORAMA trial to evaluate the safety and efficacy of Eylea for the treatment of moderately severe to severe non-proliferative diabetic retinopathy.
In the PANORAMA trial, among patients on Eylea therapy at 24 weeks, 58.0% of patients experienced a two-step or more improvement from baseline on the DRSS (Diabetic Retinopathy Severity Scale) compared to 6.0% patients on sham injections.
Article continues below advertisement
Market competition
In November 2017, Novartis (NVS) presented the results of its Phase 3 trials with brolucizumab compared to Eylea (aflibercept). In the clinical trial, Novartis's brolucizumab demonstrated non-inferiority in mean change in best-corrected visual acuity (or BCVA) in individuals with age-related macular degeneration (or nAMD) which was the primary endpoint of the trial.
Novartis conducted two head-to-head trials, HAWK and HARRIER. Novartis's press release in November 2017 said that at week 16, relative to aflibercept, 35.0% fewer brolucizumab 6 mg patients showed the presence of IRF(intra-retinal fluid) and SRF (sub-retinal fluid) in HAWK, and 33.0% fewer in HARRIER.
For further details about the results of the HAWK and HARRIER trials, please refer to Novartis's press release, which describes brolucizumab's superiority compared to aflibercept. If Novartis brolucizumab receives FDA approval, then it could pose stiff competition to Eylea. Eylea's peers include Roche's (RHHBY) Lucentis.