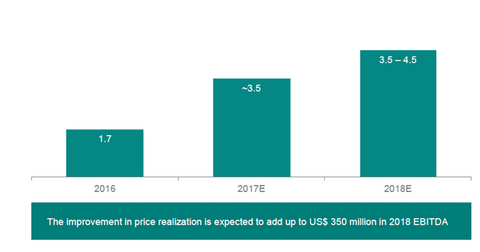 Can Vale Benefit from China's Switch to Higher-Quality Iron Ore?
By Anuradha Garg

Updated
Iron ore price performance
Vale (VALE) noted that iron ore prices averaged $71.3 per ton in 2017, 22% higher than average prices in 2016. The steel sector's outperformance led to higher steel prices around the world, which supported seaborne iron ore prices. Vale attributed the steel sector's outperformance in China to machinery, manufacturing, and real estate.
Article continues below advertisement
Quality premium to boost earnings
Vale also stated that, in 2017, improved steel profitability, environmental restrictions, and high coking coal prices led to increases price spreads between high-quality and low-quality iron ores. The company believes these spreads are structural.
Vale is benefiting from this trend. It has changed its product portfolio and quality in iron ore according to market demand. In 2017, it was focusing more on selling high-quality ore. Vale plans to lower the amount of ore sold from its southern mines, which is lower-quality ore, to 8% in 2018 from 22% in 2016.
Vale expects its average premium to be $3.50–$4.50 per ton in 2018 and $3.50 per ton in 2017, compared to $1.70 per ton in 2016. The total expected to add up to $350 million in EBITDA for Vale in 2018.
Iron ore price outlook
Vale expects China's economic growth to become more moderate in 2018, with downward risks to property. Steel demand and production are expected to grow as new projects in Southeast Asia emerge. Vale expects iron ore prices to be sustained by economic growth and growing steel output.  Vale's CEO, Fabio Schvartsman, also mentioned that a price level of $60–$70 per ton is good for the iron ore industry. A sustainable level of price usually refers to a level where efficient miners (XME) such as BHP (BHP), Rio Tinto (RIO), and Vale can make decent margins without incentivizing high-cost production to come into the market.
Next in this series, we'll look at how Vale's focus on costs is affecting the profitability of its Coal (BTU) division.