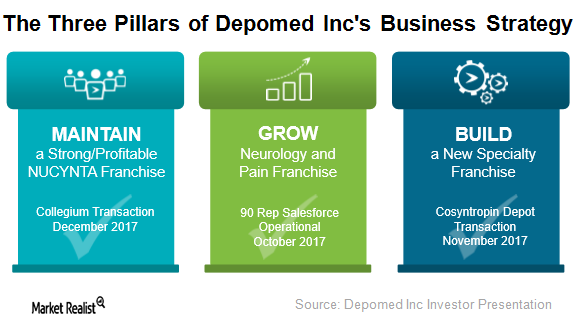 Behind Depomed's Business Strategy
DEPO's business strategy
Depomed (DEPO) has adopted a three-pronged business strategy with three key elements: maintain, build, and grow.
Article continues below advertisement
Article continues below advertisement
Maintain
Depomed aims to maintain its Nucynta franchise of pain products through the commercialization agreement it entered into with Collegium Pharmaceutical in December 2017. Under this agreement, Depomed granted commercialization rights for the Nucynta franchise of pain products to Collegium Pharmaceutical in the US. In January 2018, Collegium assumed commercialization, sales, and marketing responsibilities for the Nucynta franchise.
Under the agreement, Depomed is expected to receive a minimum royalty of $135 million per year during the first four years of the agreement.
Grow
Depomed intends to boost its neurology and non-opioid pain franchises through organic and inorganic growth. By the end of September 2017, Depomed had increased the size of its neurology field force to 90 representatives and, in the process, doubled its call plan targets.
The company expects the increase its sales force to support the growth of Gralise, Cambia, and Zipsor, which are promotionally sensitive products and allow it the flexibility to add new neurology products to its portfolio.
Article continues below advertisement
Build
Depomed intends to build a portfolio of high-value products that are positioned to meet the needs of patients, physicians, and payers. In November 2017, it acquired exclusive marketing rights for cosyntropin in the US.
Depomed believes cosyntropin could be second to market behind H-P Acthar gel by Mallinckrodt. The NDA (New Drug Application) for Cosyntropin is expected to be filed in late 2018, with a potential launch in the second half of 2019 or early 2020.
Major customers
Depomed receives the majority of its revenues through product shipments to three large national wholesale distributors in the US. McKesson (MCK), AmerisourceBergen (ABC), and Cardinal Health (CAH) made up 36%, 27%, and 26% of Depomed's total product shipments in fiscal 2017.
In the next part of this series, we'll take a look at the product portfolio of Depomed.