Are Tougher Days ahead for Global Equities?
The IMF revealed that emerging Asia is expected to grow ~6.5% in 2018 and 2019.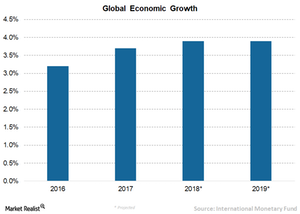 VanEck
Preparing for Bear Market Signals
The world economy is growing, the U.S. economy is growing, and nothing seems radically out of balance in terms of government policy. This all creates a positive environment for equities, but investors have to start thinking about and preparing for a correction.
A central question that one of our investing themes at VanEck looks to address is, "Do you have strategies in your portfolio that will actually adjust to bear market signals?" After 10 straight years of seeing the market going up, it may be hard to think about anything else, but the time may have come for investors to start positioning themselves for a correction.
Article continues below advertisement
Article continues below advertisement
Market Realist
Global economic growth to remain resilient
Global economic growth is expected to continue the momentum it has set in the last few quarters. The IMF expects global GDP to grow 3.9% each in 2018 and 2019. This synchronized global economic growth reflects strong expansion in developed markets and in prominent Asian economies.
The IMF revealed that emerging Asia is expected to grow ~6.5% in 2018 and 2019. Asia is expected to account for more than half of world growth. While the growth prospects for Russia (RSX) remain healthy, Europe (VGK) (EZU) is emerging from its sovereign debt crisis to post robust growth.
Meanwhile, economic growth in the US (VOO) (IVV) would be mainly driven by tax cuts, easy fiscal policy, and infrastructure investment. The optimistic view of the global economy can provide strong support to equities.
Caution ahead
Despite this positive economic outlook, investors are expected to remain cautious as strong headwinds could cause sharp volatility in the market. Fear of a trade war, tightening monetary policy by the central banks, and rising yields are among the key challenges to watch.
Another concern for the market is the domestic political landscape in the US and how President Trump handles these challenges. These factors could cause uncertainty on the policy front.