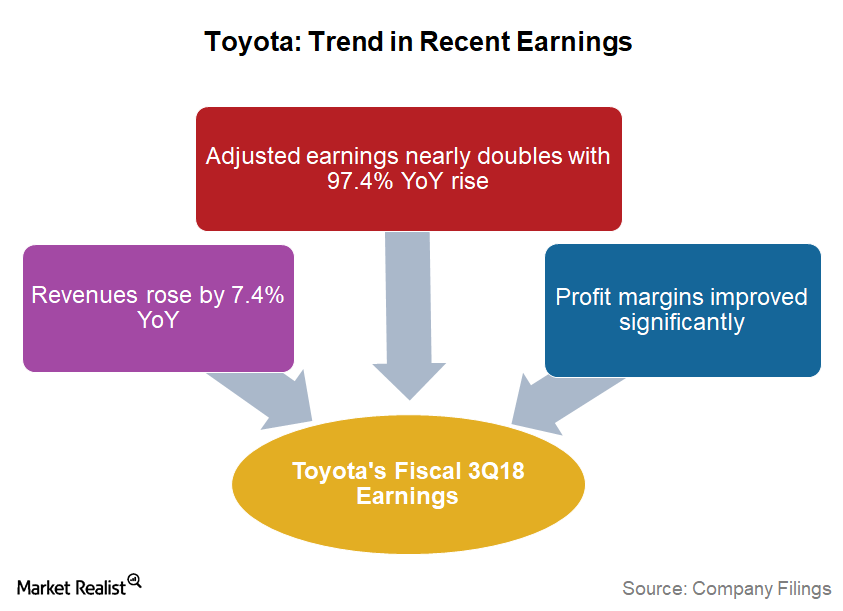 Analyzing Toyota's Recent Financial Performance
<p>In its fiscal 3Q18 (which ended December 31, 2018), Toyota's adjusted earnings rose 97.4% year-over-year to ~315 JPY (or Japanese yen).</p>
Toyota Motor
Toyota (TM), the largest Japanese automaker, became the world's largest automaker by sales volume in 2008 for the first time, surpassing General Motors (GM). In 2017, Toyota stood in the third position after French-Japanese automaker alliance Renault-Nissan and European auto giant Volkswagen (VLKAY). As of March 20, TM's ADR (American depository receipt) has gone up by 1.6% so far in 2018.
Article continues below advertisement
Article continues below advertisement
Recent financials
In its fiscal 3Q18 (which ended December 31, 2018), Toyota's adjusted earnings rose 97.4% year-over-year to ~315 JPY (or Japanese yen), or $2.97, per share. Toyota reports its earnings in Japanese yen. Investors should pay attention to the company's financials in its reporting currency to avoid any confusion from foreign exchange rates at various times.
The company's fiscal 3Q18 revenues rose 7.4% YoY to 7.6 trillion JPY despite about a 9% YoY drop in its global consolidated vehicle sales. These gains in TM's revenues were primarily driven by favorable foreign exchange rates and a favorable product mix in some of its key markets including North America.
Toyota's fiscal 3Q18 operating income margin jumped up to 8.1% as compared to 7.7% a year ago. Similarly, its net profit margins also improved to 9.2% in 3Q18 from 7.1% in fiscal 3Q17. During its fiscal 3Q18 earnings event, Toyota also raised its fiscal 2018 guidance and now expects its operating margin to be at 7.6%, better than the 7.0% guided earlier.
US sales gains
In the first two months of 2018, Toyota has reported solid gains of 10% in its US market sales. While the company's small car sales in the country have remained flat with a marginal rise of 0.5% YoY, its truck sales witnessed significant gains of about 17.4% YoY in January and February combined.
However, just like its US peers (VCR) including GM and Ford (F), Toyota's profitability also could face headwinds due to the new import tariffs on steel and aluminum in the US going forward.
Read on to the next part where we'll look at recent fundamentals of Honda (HMC), Toyota's home market peer.