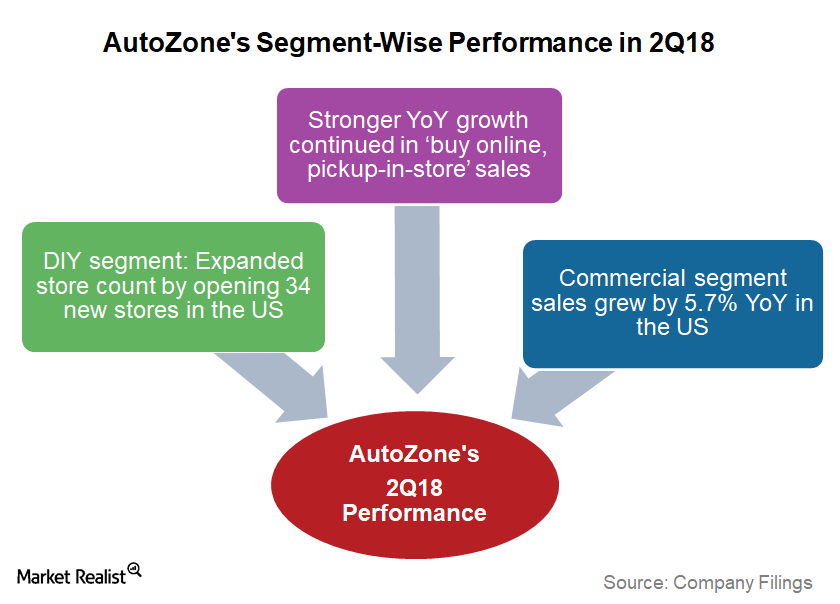 Analyzing AutoZone's Segment-Wise Performance in 2Q18
AutoZone's business segments
AutoZone's (AZO) results are divided into two business segments: the DIY (Do-it-yourself) segment and the Commercial or DIFM (Do-it-for-me) segment. The DIY segment, which targets retail customers, yields wider margins than DIFM. Let's take a look how these business segments performed in 2Q18 and AutoZone's other key growth priorities.
Article continues below advertisement
Article continues below advertisement
DIY segment in 2Q18
AutoZone's DIY segment focuses on selling auto parts to customers without providing mechanics' assistance to fit or change those vehicle parts. In 2Q18, AutoZone's DIY traffic count grew YoY (year-over-year). The company's buy-online-pickup-in-store sales continued to perform better than its ship-to-home sales. To improve customers' pickup-in-store experience, the company is focusing on providing better in-store customer services.
During the second quarter, AZO opened 34 new stores in the United States, bringing its store count to 5,514 in its home market. Also, the company opened two new stores in Brazil and three new stores in Mexico, bringing its Mexican store count to 532.
Commercial segment updates
In 2Q18, AutoZone opened 23 new commercial programs, compared with 30 and 99 new programs in 1Q18 and 4Q17, respectively. Despite slower growth in new commercial programs, the company's domestic commercial segment sales grew ~5.7% YoY in 2Q18. This commercial sales growth rate was lower than the 6.7% reported in 1Q18.
During AutoZone's 2Q18 earnings conference call, management reiterated its plans to open about 150 new programs in fiscal 2018.
The growth prospects of auto part sellers (IYK) such as AutoZone, O'Reilly Automotive (ORLY), and Advance Auto Parts (AAP) are linked to the average age of vehicles on US roads. In 2017, the average age of on-road vehicles rose to more than 11.6 years—a good sign for auto part retailers but not for auto manufacturers such as Ford (F) and General Motors (GM). Continue to the next part, where we'll look at AutoZone's 2Q18 profit margin.