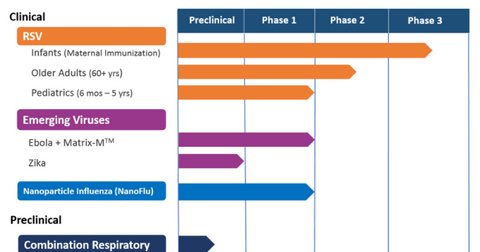 A Strong Product Pipeline Bodes Well for Novavax
By Kenneth Smith

Updated
Product pipeline
Novavax (NVAX) vaccine candidates are engineered to elicit differentiated immune responses with a potential to provide increased protection. The company's research programs are detailed in the chart below.
Article continues below advertisement
Respiratory syncytial virus
Novavax's vaccine for respiratory syncytial virus (or RSV) is being developed for three target age groups. These age groups comprise infants via maternal immunization, which is in Phase 3; for older adults, which is in Phase 2; and for pediatrics, which is in Phase 1. Novavax RSV vaccine for infants is supported by an $89.1 million grant from the Bill and Melinda Gates Foundation.
According to Novavax, the global cost burden of RSV is estimated to be in excess of $88.0 billion. At present, there are no approved RSV vaccines in the world. The company seeks to bring the first RSV vaccine to market in an effort address the 64.0 million RSV infections that occur globally every year.
Influenza
Novavax's nanoparticle influenza vaccine (or NanoFlu) is currently in Phase 1 and Phase 2 development. Its combination vaccine for influenza and RSV is currently in the preclinical stage.
Novavax noted that in the top seven markets, seasonal influenza vaccine growth shows a potential increase from ~$3.2 billion in 2012–2013 to $5.3 billion in 2021–2022. A key advantage presented by Novavax's influenza vaccine is that it can be manufactured in large quantities quickly and cost-effectively without the use of live influenza virus or eggs.
Article continues below advertisement
Emerging viruses
Novavax is also developing vaccines for Ebola virus (or EBOV) and Zika virus (or ZIKV). The EBOV vaccine is currently in Phase 1, and its ZIKV vaccine is currently in the preclinical stage.
CPL Biologics
Novavax has a joint venture, CPL Biologics, with Cadila Pharmaceuticals in India. This joint venture is 20.0% owned by Novavax and 80.0% by Cadila Pharmaceuticals. CPLB has been marketing CadiFlu-S, trivalent VLP influenza vaccine in India since 2016.
In the next part of this series, we'll look at the top line of Novavax.