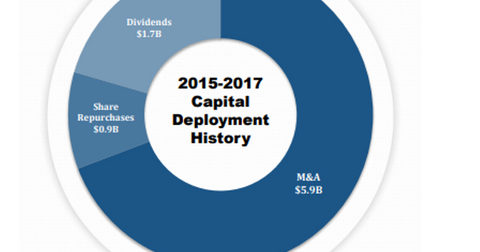 Understanding Stryker's Capital Allocation Strategy
By Kenneth Smith

Mar. 1 2018, Updated 1:20 p.m. ET
Capital allocation strategy
Stryker's (SYK) capital allocation strategy prioritizes acquisitions, dividends, and share repurchases. To this end, the company spent $831 million in acquisitions, $636 million in dividend payouts, and $230 million on the repurchase of shares in fiscal 2017.
In December 2017, Stryker announced the acquisition of Entellus Medical, a global medical technology company. Entellus Medical's products are designed for the minimally invasive treatment of various ear, nose, and throat issues. Stryker paid $662 million for this acquisition.
Stryker also acquired Novadaq Technologies in September 2017 for $716 million. Novadaq is a developer of fluorescence imaging technology that provides surgeons visualization of blood flow in vessels and related tissue perfusion.
Article continues below advertisement
Geographic segments
Stryker reports revenues from the United States and international regions. Revenues generated in the United States grew 10% from $8.2 billion in fiscal 2016 to $9 billion in fiscal 2017.
Revenues from international sales grew 9% from $3 billion in fiscal 2016 to $3.3 billion in fiscal 2017.
Stock performance
In the last year between February 27, 2017, and February 23, 2018, Stryker stock has risen 25%. In the same period, Boston Scientific (BSX), Halyard Health (HYH), and Zimmer Biomet Holdings (ZBH) had returns of 10%, 15%, and 1.6%, respectively.
The price-to-sales ratio for Stryker is 4.8x. Its price-to-book ratio is 6.0x, and its book value per share is 26.0x. Its return on assets, return on equity, and return on investments are 4.8%, 10.2%, and 12.1%, respectively.
In the next part of this series, we'll explore Stryker's financial performance.