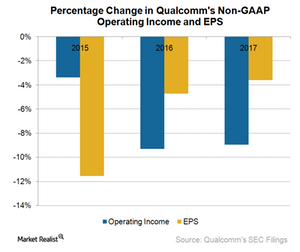 How Qualcomm Is Addressing Shareholder Issues
By Puja Tayal

Updated
Shareholder issues
Qualcomm's (QCOM) legal headwinds have proved difficult for the company's earnings, sending its non-GAAP (generally accepted accounting principles) operating income down 9% and operating cash flow down 36% YoY (year-over-year) in fiscal 2017.
Article continues below advertisement
2015
In 2015, Qualcomm's Snapdragon 810 chipset failed due to overheating issues. The company lost one of its major customers, Samsung (SSNLF), thereby sending Qualcomm stock down 30%. Qualcomm's fiscal 2015 revenue fell 4.6%, its operating income fell 3.4%, and its EPS (earnings per share) fell 11.6% YoY.
At that time, activist shareholders forced Qualcomm to cut its global workforce by 15% in order to reduce costs and improve profits. Activist investor Jana Partners also proposed splitting up the company's chipset and licensing business, but the company's board of directors protected the business model. In order to regain shareholder confidence, Qualcomm initiated the semiconductor industry's biggest shareholder return program in which it repurchased $11.2 billion worth of shares and paid $2.9 billion in dividends.
That saw Qualcomm's EPS decline at a slower rate than its operating income in fiscal 2016 and 2017.
2018
History, it is said, is likely to repeat itself. Legal headwinds and a hostile takeover attempt by Broadcom (AVGO) is again plaguing Qualcomm in 2018. In addition, Qualcomm's acquisition of NXP Semiconductors (NXPI) is facing opposition from activist shareholders, which is creating doubts about the successful completion of the merger.
All these headwinds are encouraging some of Qualcomm's shareholders to sell their shares to Broadcom.
In order to protect itself from the hostile takeover, Qualcomm is looking to initiate another cost reduction program to save $1.1 billion in annual costs. It has also promised shareholders a large share repurchase in the event the NXP acquisition doesn't work out.
This year could determine whether Qualcomm succeeds in acquiring NXP or gets acquired by Broadcom. It could be a very important year for Qualcomm's shareholders.
Next, let's see what Qualcomm's earnings might look like in various scenarios.