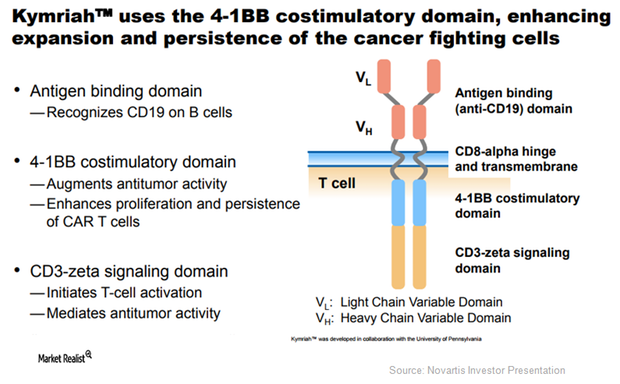 Novartis' Kymriah: The First Gene Therapy to Be Approved in the US
Kymriah gene therapy
On August 30, 2017, Novartis' (NVS) CAR T-cell therapy, Kymriah, secured approval from the FDA as a treatment option for patients below 25 years of age who have B-cell precursor acute lymphoblastic leukemia (or ALL).
This drug, which is developed by the company in collaboration with the University of Pennsylvania, is indicated only in cases when ALL is refractory or has relapsed a second time or more.
The National Cancer Institute estimates that the incidence of ALL in patients aged 20 or younger is ~3,100 in the US. Approximately 15.0%–20.0% of these pediatric and adult B-cell precursor ALL patients subsequently become eligible for treatment with Kymriah.
Article continues below advertisement
Article continues below advertisement
Kymriah, however, can result in life-threatening side effects such as cytokine release syndrome (or CRS) and other neurological events. Hence, the FDA has approved this gene therapy with a risk evaluation and mitigation strategy (or REMS) that requires the administering hospitals and clinics to be certified.
These centers are required keep Roche Holdings' (RHHBY) Actemra (tocilizumab) available while administering Kymriah, as the former is approved by the FDA to treat the CRS side effect in patients.
Kymriah commercialization
The chart above shows the mechanism of action of Kymriah in greater detail. After Kymriah, Gilead Sciences' (GILD) Yescarta, originally developed by Kite Pharma, became the second approved CAR-T therapy in the US. Celgene (CELG) has also collaborated with Bluebird Bio for studying CAR-T therapy in relapsed/refractory multiple myeloma indications.
At the end of 2017, there were around 33 centers in the US that were REMS certified to administer Kymriah. Of these centers, 25 were fully operational sites.
Novartis has achieved its targeted 22-day manufacturing time for Kymriah. The company aims to improve its dosing flexibility for this therapy for physicians and patients through cryopreservation technology. These milestones may boost Kymriah's adoption in the US going forward.
In the next article, we'll discuss the research programs for Kymriah.