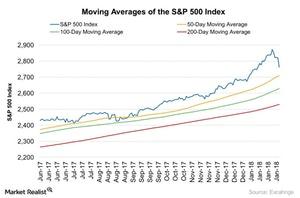 What Moving Averages Indicate for the S&P 500 Index
By Sarah Sands

Updated
Moving averages
Moving averages are technical indicators that are used to identify short-term trends in market movement. Moving averages are calculated based on past prices.
The broader market S&P 500 Index (SPX-INDEX) rallied strongly in 2017 and in January 2018 by 19.6% and 5.6%, respectively. On February 2, 2018, the index was trading 1.5% above its 50-day moving average, 5% above its 100-day moving average and 9.1% above its 200-day moving average.
Article continues below advertisement
Other US indexes such as the NASDAQ Composite Index (COMP-INDEX) and the Dow Jones Industrial Average Index (DJIA-INDEX) are also trading above their 50-day and 100-day moving averages. When the short-term moving average crosses the long-term moving average in an upward direction, the sentiment becomes bullish.
Immediately after the US election in November 2016, we saw that the 50-day moving average of the S&P 500 Index crossed its 100-day moving average in an upward direction. Since then, the bullish trend has continued. If the moving average trend changes, then we could also expect significant changes in the movement of the S&P 500 Index.
You may be interested to read, Goldman Sachs Believes "Correction Signals Are Flashing."