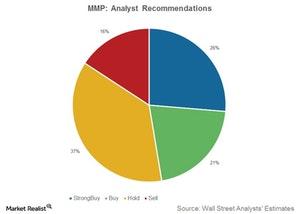 Reading Magellan Midstream Partners' Target Prices after the 4Q17 Earnings
By Rekha Khandelwal, CFA

Nov. 20 2020, Updated 5:01 p.m. ET
MMP's analyst recommendations
On February 2, 2018, Barclays cut Magellan Midstream Partners' (MMP) price target from $78 to $76. On the same day, RBC cut MMP's price target from $81 to $79. Of the analysts surveyed by Reuters, 47% rated Magellan Midstream Partners as a "buy," and 37% rated it as a "hold."
Notably, only 16% of the surveyed analysts rated MMP as a "sell." The consensus target price for Magellan Midstream Partners is now $77.50. Its units are trading at $71.57. If Magellan Midstream Partners attains the target price, it would mean an upside of 8% in one year.
By comparison, 96% of the surveyed analysts rated Enterprise Products Partners (EPD) as a "buy," and 74% rated Energy Transfer Equity (ETE) as a "buy."
Article continues below advertisement
MMP's capital projects
Magellan Midstream continues to progress on its capital projects. Some of the key projects include:
The storage and connectivity infrastructure under the Seabrook Logistics joint venture is expected to become operational in mid-2018.
Construction continues on a new dock at MMP's Galena Park terminal. Its expected to become fully operational by the end of 2018.
Construction continues at MMP's marine terminal in Pasadena. An initial 1 million barrels of storage is expected to become operational by early 2019.
The Wink crude oil pipeline and a refined products pipeline are expected to be operational in 2019.
Magellan spent ~$540 million on organic growth projects in 2017. It expects to spend $900 million in 2018 and $375 million in 2019 to complete projects that are already underway.
MMP's guidance
Magellan Midstream expects to increase distributions by 8% for 2018. It expects to generate DCF (distributable cash flow) of $1.05 billion in 2018. That would be around 3% higher than MMP's 2017 DCF.
The company expects 2018 DCF to be ~$1.08 billion if the capacity for spot shipments at the BridgeTex and Longhorn pipelines gets utilized. Magellan is targeting annual DCF growth of 5%–8% for 2019 and 2020.
For ongoing updates on Magellan Midstream Partners and this industry, be sure to keep checking in with Market Realist's Midstream Oil and Gas page.