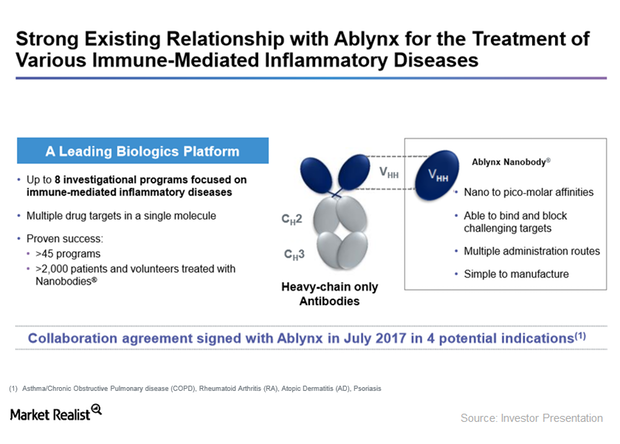 A Look at Ablynx and Sanofi's Existing Partnership
Acquisition details
On January 29, 2018, Sanofi (SNY) announced that it had agreed to acquire Ablynx (ABLX) for 3.9 billion euros. Ablynx and Sanofi had a successful existing partnership for multiple sclerosis research and immunoinflammatory diseases.
The two companies entered into a research collaboration for the development and commercialization of new treatments for immunoinflammatory diseases in July 2017. The deal entailed a plan to work in up to eight programs on multitargeting nanobody approaches to rheumatoid arthritis, asthma, COPD (chronic obstructive pulmonary disease), psoriasis, and atopic dermatitis.
Article continues below advertisement
Article continues below advertisement
Under the agreement terms, Sanofi gained access Ablynx's scientists, certain nanobodies in its product portfolio, and Ablynx's proprietary nanobody platform. According to Ablynx, nanobodies are "a novel class of proprietary therapeutic proteins based on single-domain antibody fragments." Nanobodies are superior alternatives to traditional immunoreagents.
Ablynx's leading biologics platform has been attracting a number of big pharma companies, including Novo Nordisk (NVO), and it has key partnerships with giants such as AbbVie (ABBV), Novartis (NVS), and Merck & Co. (MRK).
Sanofi's existing rights over Ablynx portfolio and pipeline
As per a collaboration agreement in July 2017, Sanofi already has exclusive rights to certain nanobodies in Ablynx's product portfolio. It also has the option to gain the rights to additional nanobodies—up to eight candidates—for certain milestone payments and royalties. These additional nanobodies are under development, and Sanofi provides funding for the implementation of these projects.
Sanofi has also agreed to maintain and support Ablynx's Ghent science center as per the terms of the deal. Sanofi is looking to leverage Ablynx's R&D (research and development) capabilities through the partnership.
With Sanofi's acquisition of Ablynx, Sanofi has accelerated its commitment to advancing in the rare blood disorders market. The company has also gained access to Ablynx's potential blockbuster candidate caplacizumab.
Investors interested in taking diversified exposure to Sanofi can consider the First Trust Value Line Dividend ETF (FVD). SNY makes up ~0.50% of FVD's total holdings.
Next, we'll take a look at how the Ablynx acquisition will strengthen Sanofi's rare blood disorders portfolio.