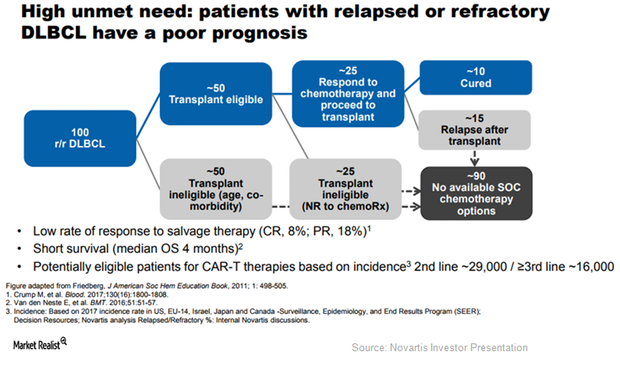 Kymriah May Emerge as a Robust Treatment Option in DLBCL Indication
Kymriah in DLBCL indication
On October 31, 2017, Novartis (NVS) announced the submission of a supplemental biologics license application (or sBLA) to the FDA. The sBLA seeks approval for Kymriah as a treatment option for adult patients with relapsed/refractory diffuse large B-cell lymphoma (or r/r DLBCL).
Kymriah suspension therapy secured breakthrough therapy designation in this indication in April 2017. On January 17, 2018, Novartis announced the FDA's acceptance of its sBLA under the priority review program.
The chart above shows that there is significant unmet demand in the R/R DLBCL indication that can be targeted by Kymriah. Kymriah is the first FDA-approved chimeric antigen receptor T cell (or CAR-T) therapy.
Gilead Sciences (GILD) Yescarta was the second FDA-approved CAR-T therapy in the US. Celgene (CELG) and Pfizer (PFE) are also working on exploring the potential of CAR-T technology in various cancer indications.
Article continues below advertisement
Article continues below advertisement
Clinical trial results
On December 10, 2017, Novartis announced the results from its pivotal trial, JULIET. This trial highlighted the durability of the response witnessed by R/R DLBCL patients when treated with Kymriah. This was the first CAR-T trial performed across 27 sites in ten countries.
The trial used a centrally manufactured therapy that was also cryopreserved to ensure that patients have the flexibility to start Kymriah therapy based on their individual conditions.
While the therapy demonstrated a complete response rate of 30% and relapse-free rate of 74%, Kymriah failed to reach the median duration of response and median overall survival endpoints. Although the trial comprised heavily pretreated patients, the response rates of the patients didn't differ based on previous lines of therapy, genetic disposition, or the originating cell for cancer.
Novartis is ramping up its manufacturing capabilities for launching this therapy in DLBCL indication in the US in 2018.
In the next article, we'll discuss growth prospects for Kisqali.