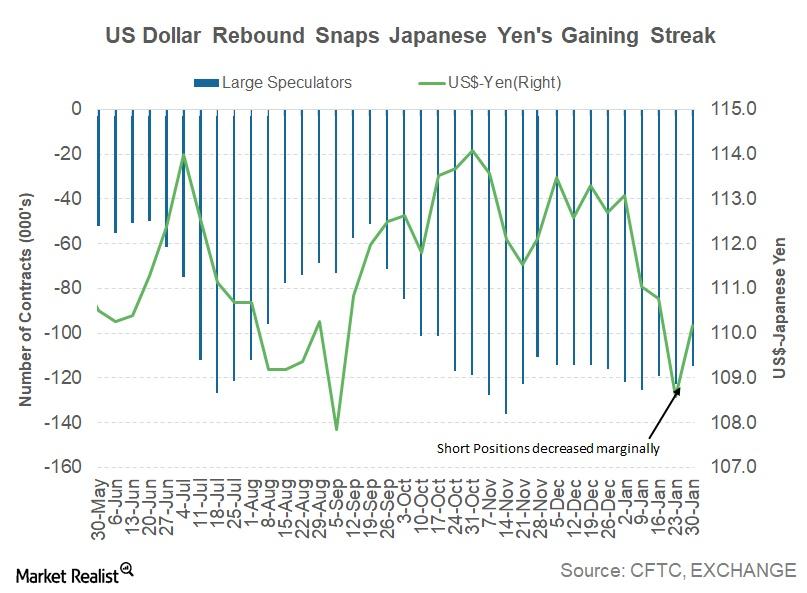 Why the Japanese Yen Depreciated against the Dollar Last Week
Japanese yen witnesses minor pullback
The Japanese yen (JYN) retracted against the US dollar last week as US dollar bulls tried to take control. A hawkish Federal Reserve along with a strong jobs report and wage growth gave some reason for the dollar bulls to cheer, and that resulted in a decrease in demand for the Japanese yen. For the week ended February 2, the Japanese yen (FXY) closed at 110.16 against the US dollar (UUP), depreciating 1.3%.
The Japanese equity markets (EWJ) rode along, with its global peers into negative territory with the Nikkei 225 (JPXN) posting a loss of 1.5% for the week ended February 2. A weakening yen could offer some support to the Japanese equity markets once the global bond yield scare subsides.
Article continues below advertisement
Article continues below advertisement
Speculators decreased bearish bets on the yen
Japanese yen (YCL) speculators decreased their net short positions on the yen, according to the latest COT (Commitment of Traders) report released on February 2, 2018, by the CFTC (Chicago Futures Trading Commission). As of Tuesday, January 30, speculators on the Japanese yen had a net short position of 114,696 contracts compared to 122,870 short contracts the previous week. The question now remains if last week's dollar rebound will continue. If that happens, there could be some downward pressure on the Japanese yen to increase, since it's the only economy that's not expected to change its course of monetary accommodation.
Week ahead for the Japanese yen
This Wednesday, February 7, the November labor cash earnings report is expected. It's the only major domestic data from Japan. An increase in earnings of the workforce could help revive the domestic demand that has been tepid for years. An increasing domestic demand could make the Japanese economy less dependent on the global economy through its exports. Overall, the price action of the Japanese yen could be depending on news from the United States Congress and the demand for the US dollar in the global markets.