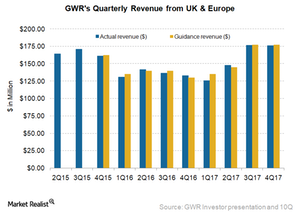 Inside Genesee & Wyoming's UK-Europe Segment Revenues in 4Q17
By Samuel Prince

Updated
GWR's UK-Europe segment
In this part of the series, we'll assess Genesee & Wyoming's (GWR) 4Q17 UK-Europe segment's performance. Revenues for the segment rose 32.3% to $175.8 million in 4Q17 from $132.9 million in 4Q16. Excluding the impact of foreign exchange translations and the Pentalver Transport acquisition, same railroad revenues declined $5.4 million, or 3.1%, in 4Q17. Revenue growth for its UK intermodal operations and aggregate carloads in Poland was unfavorably impacted by its ERS (European Railway Services) restructuring.
In the UK-Europe operation, freight revenues were 49.5% of total revenues, a 12.1% fall from 61.6% in 4Q16. On the other hand, freight-related revenues were 41.1% in 2017, a 6.7% rise from 34.4% in 2016. Other revenues were 9.4%, representing a 5.4% increase from 4% in 4Q16.
Article continues below advertisement
UK-Europe carloads in 4Q17
Genesee & Wyoming's UK-Europe carloads declined 2.6% to 274,000 units in 4Q17, from 281,200 units in the corresponding quarter of 2016. However, due to the number of restructuring initiatives undertaken by the company, the average revenue per car was $317 in 4Q17, an 8.9% increase from $291 in 4Q16.
Management's outlook
In 2018, Genesee & Wyoming hopes to have revenues of $760 million from its UK-Europe operations. On an annual basis in 2017, the company anticipates $620 million–$630 million. Based on its 2017 revenues, the company expects a 21% rise in the segment's revenues in 2018. On an overall basis, GWR's UK-Europe revenue outlook remains cautious according to the company's statement in its 4Q17 conference call.
Higher diesel prices could improve railroads' intermodal business prospects in the coming quarters. It's worth noting that a railroad is four times more fuel efficient than a truck. When fuel prices were lower, railroads' intermodal businesses faced stiff competition from the trucking (XTN) sector. However, railroads now stand a chance to grow their intermodal businesses. That could benefit Union Pacific (UNP), Kansas City Southern (KSU), Norfolk Southern (NSC), and Genesee & Wyoming (GWR).
Be sure to watch Market Realist for updates on GWR's combined and segmental operating margins in 4Q17.