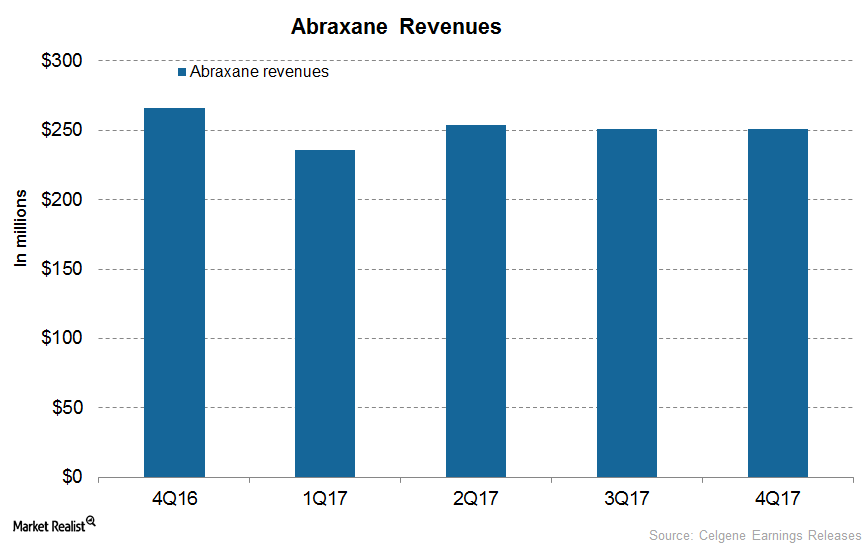 How's Celgene's Abraxane Positioned after 4Q17?
Abraxane's revenue trends
In 4Q17, Celgene's (CELG) Abraxane generated revenues of $251 million, which reflected a decline of ~6% on a YoY (year-over-year) basis. In 4Q17, Abraxane's quarter-over-quarter revenues remained flat.
In 4Q17, in the US market and international market, Abraxane generated revenues of $155 million and $96 million, respectively, which reflected an ~10% decline and 2% growth on a YoY basis.
In fiscal 2017, Abraxane generated net revenues of $992 million, which reflected ~2% growth on a YoY basis. In 2017, Abraxane's market share remained flat in the US market for pancreatic cancer, first line non-squamous lung cancer, and metastatic breast cancer. In the European market, Abraxane witnessed a market share gain in 2017 in the pancreatic cancer drugs market.
Article continues below advertisement
Recent developments
On January 2018, Celgene presented the results of the phase 2 international LAPACT trial of Abraxane and gemcitabine combination therapy in individuals with locally advanced pancreatic cancer at the American Society of Clinical Oncology Gastrointestinal Cancers Symposium in San Francisco.
Celgene's press release on January 19, 2018, said "newly diagnosed, locally advanced pancreatic cancer treated with up to 6 cycles of ABRAXANE + gemcitabine as an investigational induction therapy (n=106) found that patients had a median time to treatment failure (TTF) of 8.8 months (90% CI: 6.67-9.82), which exceeded the protocol-specified target of 6.6 months (primary endpoint)."
According to the same press release, in the LAPACT trial, patients on Abraxane and gemcitabine combination therapy demonstrated a disease control rate (or DCR) of 77.6% and 65.4%, respectively, at more than equal to 16 weeks and 24 weeks. In the trial, Abraxane and gemcitabine showed an overall response rate of 32% and median progression-free survival of 10.8 months.
Some notable drugs for pancreatic cancer include Eli Lilly's (LLY) Gemzar, Roche's (RHHBY) Tarceva, and Pfizer's (PFE) Sutent. Growth in Abraxane sales could boost the SPDR S&P 500 ETF's (SPY) share prices. Celgene accounts for ~0.35% of SPY's total portfolio holdings.