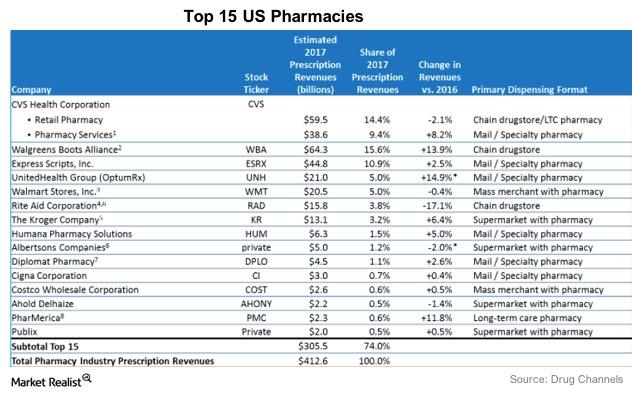 How the Drug Store Industry Is Changing
<p>The top three drugstore chains in the US are in the process of forming new associations through mergers and acquisitions to create a more diversified portfolio and protect themselves from the growing online threat.</p>
What are the drugstore players doing to stay competitive?
The top three drugstore chains in the US are in the process of forming new associations through mergers and acquisitions to create a more diversified portfolio and protect themselves from the growing online threat.
Pharmaceutical stocks took a hit last year when CNBC reported on Amazon's (AMZN) potential entry into the pharma space. Walgreens Boots Alliance (WBA) and CVS Health (CVS) plunged 12% and 8% in 2017, respectively, while Rite Aid (RAD) was down 76% during the year.
Article continues below advertisement
Article continues below advertisement
Discussing mergers and acquisitions of the top drugstore chains
CVS Health (CVS), the largest drugstore chain in the country, acquired insurer Aetna (AET) in a $69 billion deal in December last year. The transaction was one of the largest of the year and one of the most significant in CVS Health's history. The deal will vertically integrate CVS by adding a health insurer to its vast business, which includes 9,700 pharmacies, 1,100 clinics, and a successful PBM (pharmacy benefit manager) business.
Next in line was Walgreens Boots Alliance (WBA), the second largest pharmacy chain. On February 12, the Wall Street Journal reported that WBA was reportedly in talks with AmerisourceBergen (ABC) to purchase the remaining stake in the company. ABC is among the most significant drug distributors in the US. Walgreens already owns a 26% stake in the company. However, the companies haven't confirmed the rumors.
Walgreens scaled back on its Rite Aid plans last year after failing to get the FTC nod. It finally ended up purchasing under 2,000 Rite Aid stores. The deal, which had a waiting period of about two years, hurt Rite Aid stock badly.
And now comes the Rite Aid-Albertsons deal, which according to John Standley, Rite Aid's current chair and CEO, will enable the combined company to stand out against CVS, Walgreens, and Walmart (WMT).