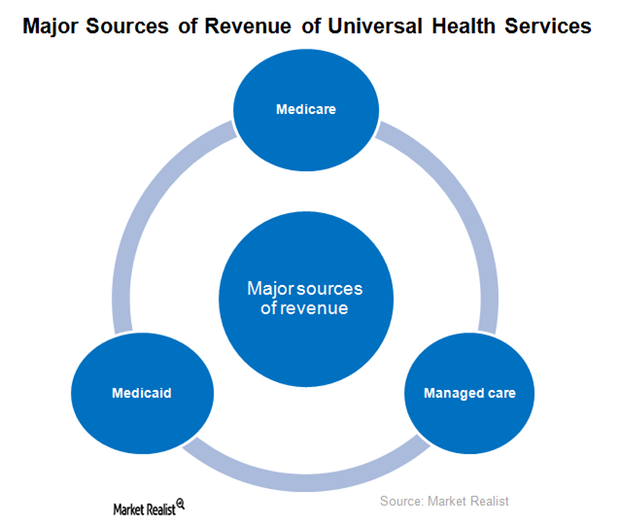 How Has Universal Health Services Fared Compared to Peers?
Major sources of revenue
Universal Health Services (UHS) receives a major part of its revenues from third-party payors and managed care. In 3Q17, the company received 20% of its revenues from Medicare, 11% from Medicaid, while 57% of its revenue came from managed care.
Article continues below advertisement
Article continues below advertisement
Stock performance
Between November 22 and February 21, Universal Health Services stock has risen 19% to reach $117. In comparison, the stock prices of peers Genesis Healthcare (GEN), Envision Healthcare (EVHC), and Ensign Group (ENSG) have generated returns of 83%, 27%, and 13.5%, respectively, in the same period.
Share repurchase program
In November 2017, Universal Health Services announced an increase of $400 million to its stock repurchase program. This move took the aggregate stock repurchases to $1.2 billion from the previous authorization of $800 million. The company has repurchased approximately 6.9 million shares to date.
The repurchase program is expected to affect the company's stock price favorably. In general, investors have a positive view of repurchase programs, as they show management's confidence in the business. The company is also expected to benefit from the lower tax rate due to changes in US tax laws. The change is expected to add $170 million to $200 million a year to the company's cash flows.
Valuation metrics
The enterprise value to EBITDA ratio for the company stands at 8.9x, while for peers United Health Group, Cigna (CI), and Tenet Healthcare (THC) have EBITDA ratios of 12.4x, 10.0x, and 7.9x, respectively. The price-to-sales ratio for Universal Health Services at present is 1.1. The return on equity and return on assets stand at 15.3% and 7.1%, respectively.
In the next part of the series, we'll take a look at the financial performance of Universal Health Services.