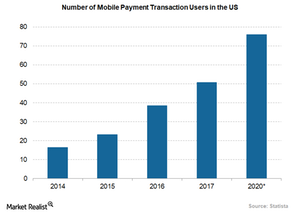 Google Is Joining the Mobile Payment Space with Google Pay
Google to launch its new payment service
Alphabet's (GOOGL) Google plans to combine Google Wallet and Android Pay under a single payment service called Google Pay. Google Pay is designed to improve the user experience, as it automatically makes payments from Google Wallet or Android Pay. Google Pay is expected to be available online, in brick-and-mortar stores, and across all Google products.
Article continues below advertisement
Google's payment service in other markets
Google announced that Google Pay will be rolled out in the US. Google launched its UPI-based Tez app in India (INDA) for making payments through mobile, as fewer people use credit cards or NFC-supported[1. near-field communication] smartphones.
However, the Tez app is expected to be available via both Android and iOS. The app will be linked to more than 50 banks to streamline the customers' payment experience.
Google competes with rival payment services
As more users are relying on mobile wallets to complete their transactions, companies are positioning to garner a greater part of the mobile payment service market. Apple Pay by Apple (AAPL), Google Wallet, PayPal (PYPL), and Android Pay are most widely used to make mobile payments. Last year, PayPal integrated with Android Pay to allow Google Chrome users to pay for online purchases via PayPal.