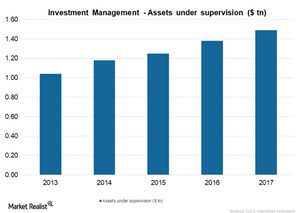 Goldman Sachs: Its Expanding Investment Management Division
By Raina Brown

Updated
Investment management
Net revenues for Goldman Sachs's (GS) investment management segment were $6.2 billion, a 7% rise year-over-year, driven largely by growth in management and fees on increased assets.
For 4Q17, investment management generated revenues of $1.7 billion. It's this segment's second-best quarterly performance. It rose 9% from 3Q17, based on solid growth in management and fees despite the broader industry headwinds.
Article continues below advertisement
Assets under supervision
In 2017, assets under supervision were $1.5 trillion, a $115 billion rise from 2016. Of the increased amount, $42 billion of long-term net inflows were driven by fixed income and alternative products, $13 billion consisted of liquidity product outflows, and $86 billion was due to market appreciation.
In 4Q17, assets under supervision increased $38 billion, driven by $17 billion of net inflows into liquidity products and $22 billion of market appreciation.
Revenue bifurcation
Investment management contributes 19% of Goldman Sachs's total revenues. In 4Q17, 83% of its revenues came from management and other fees, which were 7% higher than the previous year. Incentive fees, which make up 6% of the total revenue, fell 1% from the previous year. Transaction revenues were 16% higher than the previous year at $658 million.
Geographically, the Americas contributed the highest revenues at 60% of total revenue, followed by EMEA (Europe, the Middle East, and Africa) at 24% and Asia at 15%. From a year ago, revenues generated from EMEA have declined 2%, and revenues from America and Asia are rising. Revenues from America increased 7%, and revenues from Asia increased 9%. Goldman Sachs could increase its footprint in the Asian markets to garner long-term flows at a faster pace.
Below are the price-to-earnings ratios of Goldman Sachs and its peers: