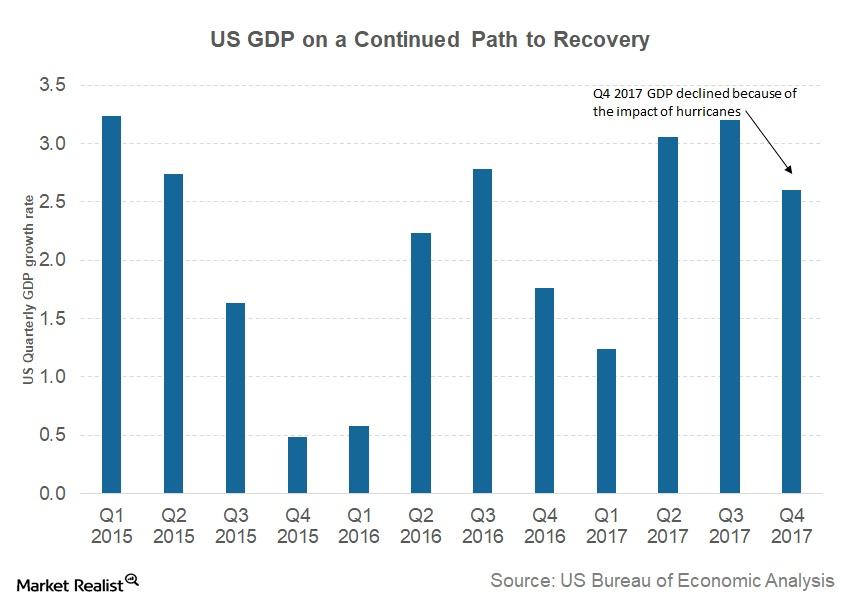 FOMC's Review of Economic Situation Signals Strong US Economy
Economic expansion continues at a solid pace
In the FOMC meeting minutes, a staff review of the economic situation is presented to the members of the committee. The January meeting minutes' FOMC staff review indicated that the real US GDP expanded 2.5% in the fourth quarter, and increased spending by households and businesses indicated that the economic momentum remained solid. Employment growth increased in December and the unemployment rate remained at 4.1%. The key highlight was the increase of 2.5% in the employment cost index for private companies and the average hourly earnings over the last 12 months, which was the trigger for the stock market sell-off at the beginning of this month.
Article continues below advertisement
Article continues below advertisement
Inflation remains low
As per the FOMC staff report, inflation (TIP) in the US remained below the 2% target. Consumer price inflation (or CPI) rose 1.8% over the 12 months ending in December, while the core inflation (VTIP), which excludes consumer food and energy prices, has increased by 1.5% over the same period. The FOMC members, however, at the January meeting, changed their tone regarding inflation and said that they expect inflation could reach the 2% target soon. This change in expectation for inflation increased the changes for a higher number of rate hikes from the Fed.
Other economic observations
FOMC members noted that other macroeconomic indicators have continued to improve. Improvement in industrial production, especially in manufacturing (XLI), mining (PICK), and utilities were projected based on the growth of new orders and manufacturing surveys. The nominal US trade deficit was reported to have increased, especially because of increased imports of consumer goods. Overall, economic activity was reported to have expanded in the US and across advanced foreign economies and emerging market (EDC) economies. In the next part of this series, we'll discuss the members' view on financial conditions in the US economy.