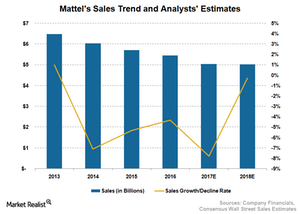 Why Mattel's Sales Could Keep Falling in the Near Term
Near-term disruptions
Toy makers in the United States (SPY) are facing near-term disruptions affecting their top-line performance. Toys "R" US, one of the leading distribution partners for US toy companies, filed for bankruptcy. Retailers reducing inventory amid growing competition from e-commerce players is taking a toll on these companies' growth prospects. Also, with the emergence of technology, traditional toys are losing their sheen for kids who opt for video games and mobile devices as their preferred mode of entertainment.
Article continues below advertisement
As for Mattel (MAT), the company's problems are both internal and external. Its several brands are underperforming. For instance, The Toy Box—primarily Monster High, MEGA, and Ever After High brands—continued to drag on the company's top line. Moreover, the company's loss of Disney's (DIS) Princess license to rival Hasbro (HAS) further pressured its top-line growth.
Plus, Toys "R" US filing for bankruptcy adversely impacted the company's sales, as the retailer was one the largest distribution partners for Mattel. Retailers reducing inventory also pressured Mattel's top line. Notably, in December 2017, Mattel stated that its fourth quarter started on a soft note as key retailers continued to tighten their inventory during the holiday season. Plus, the underperformance of The Toy Box and several other brands remained a drag.
Given the near-term challenges, Mattel expects its top line to register a YoY (year-over-year) decline in mid-to-high single digits for fiscal 2017. Meanwhile, analysts' estimate a 7.8% decrease in Mattel's top line for 2017.
Outlook for 2018
Mattel's sales could stabilize in 2018, driven by investments in power brands (which include Barbie, American Girl, Hot Wheels, Fisher-Price, and Thomas & Friends) and strengthening of the innovation pipeline. Moreover, Mattel is focusing on expanding its distribution capabilities, including e-commerce and omnichannel offerings that should support its sales growth rate.
Also, Mattel's investments in licensing agreements with Warner Bros., Disney, Universal, Nickelodeon, and WWE—as well as portfolio optimization through reducing the launch of smaller brands and trimming underperforming brands—could help the company return to a growth trajectory. Plus, the company's sales are expected to benefit from market share gains in China (FXI), driven by its partnership with e-commerce giant Alibaba (BABA), JD.com (JD), and BabyTree.