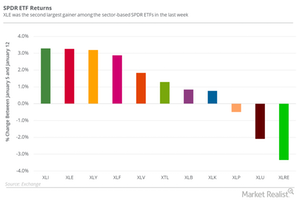 What to Watch when Oil's at a 3-Year High
US crude oil
In the week ended January 5, 2018, US crude oil production fell 290,000 barrels per day, a factor that supported oil's rise in the week ended January 12 when the US oil rig count rose by ten to 752. It could increase US crude oil production in the future.
Supply concerns is another important factor that has supported oil prices. On January 12, 2018, President Donald Trump extended waivers of key economic sanctions on Iran. However, the tough diplomatic stance of the United States with Iran could increase oil supply concerns.
Higher oil prices could benefit the energy exposure of equity indexes such as the S&P 500 Index (SPY) (SPX-INDEX) and the Dow Jones Industrial Average Index (DIJA-INDEX). Last week, these equity indexes rose 1.6% and 2%, respectively.
Article continues below advertisement
Natural gas
Between January 5 and January 12, 2018, natural gas's (UNG) (BOIL) February futures rose 14.5%. On January 12, natural gas futures closed at $3.20 per MMBtu (million British thermal unit), their highest closing level since November 13, 2017.
In the week ended January 5, 2018, natural gas inventories declined by 359 Bcf (billion cubic feet), the highest weekly fall according to EIA (U.S. Energy Information Administration) data since 2010. After the EIA data on January 11, 2018, natural gas futures rose 6.1%.