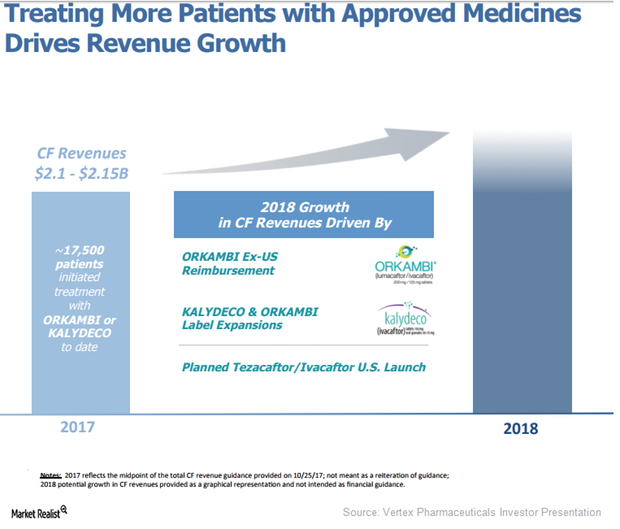 Vertex Pharmaceuticals Has Robust Late-Stage Research Pipeline
Orkambi late-stage R&D pipeline
On October 25, 2017, Vertex Pharmaceuticals (VRTX) announced positive top-line results from its open-label Phase 3 trial that evaluated Orkambi in 60 children suffering with cystic fibrosis (or CF) who have two copies of the F508del mutation. The trial reached its primary endpoint of safety, and Orkambi demonstrated improvement in secondary endpoints such as nutritional status and sweat chloride. Since the trial has demonstrated high efficacy and safety for very young children, it can enable Vertex Pharmaceuticals to intervene at a very early stage and hopefully change the course of disease progression for young patients. Vertex Pharmaceuticals has planned to file applications seeking approval for Orkambi in this indication in the United States and the European Union in 1Q18.
Article continues below advertisement
On January 10, 2018, Vertex Pharmaceuticals announced that Orkambi has secured regulatory approval from the European Commission to treat CF patients ages six to 11 years with two copies of the F508del mutation. That expands the drug's addressable market size by 3,400. Vertex Pharmaceuticals will now commence its country-by-country reimbursement discussions in Europe. Orkambi was previously approved for CF patients with two copies of the F508del mutation and ages 12 years and above.
Vertex Pharmaceuticals accounts for 4.2%% of the iShares Nasdaq Biotechnology (IBB).
Tezacaftor/ivacaftor combination regimen
On August 24, 2017, Vertex Pharmaceuticals announced that the FDA (U.S. Food & Drug Administration) has approved and granted priority review to the company's application seeking approval for its tezacaftor/ivacaftor combination regimen for treating CF patients with two copies of the F508del mutation who are 12 years of age or older. The FDA has also accepted the application seeking approval for this combination therapy for CF patients who have one F508del mutation and one residual function mutation and respond to this treatment. The FDA has set the PDUFA (Prescription Drug User Fee Act) date for this application for February 28, 2018. The European Medicines Agency has also accepted for review the regulatory application seeking approval for the tezacaftor/ivacaftor combination regimen in this indication. Vertex Pharmaceuticals expects to receive regulatory approval in Europe in the second half of 2018.
The tezacaftor/ivacaftor combination regimen is expected to enable Vertex Pharmaceuticals to compete more effectively with potential entrants in the CF space, including Pfizer (PFE), Sanofi (SNY), and Novartis (NVS).
In the next part, we'll take a closer look at the triple combination regimen for CF.