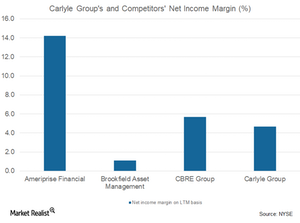 Understanding Carlyle's Global Market Strategies Division
By Raymond Anderson

Updated
Minority shareholder
On December 27, 2017, The Carlyle Group (CG) announced that it had become a minority shareholder in Bis Industries, where a financial reorganization has taken place. The company provides materials for handling solutions and logistics. Its clients include resource and mining companies.
Bis Industries' financial reorganization has decreased its financial leverage and gross debt, allowing it to focus on achieving growth. Carlyle has shared positive views on this reorganization, and according to Bis, its improved capital structure has positively affected its business. The company can now better serve existing and new clients and target various opportunities.
Article continues below advertisement
What to expect in 4Q17
Carlyle's global market strategies division is expected to be impacted by the Fed's recent rate hike. As the rate increases, the company's holdings could see downward momentum, impacting the division's performance. The division's fee-earning assets under management fell from $29 billion in 3Q16 to $26 billion in 3Q17. Whereas Carlyle has an LTM (last-12-month) net income margin of 4.7%, peers (XLF) Ameriprise Financial (AMP), Brookfield Asset Management (BAM), and CBRE Group (CBG) have margins of 14.2%, 1.1%, and 5.7%, respectively.