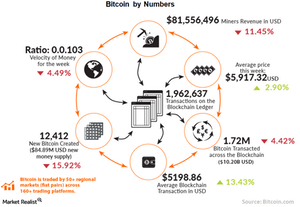 Things to Know Before You Buy Bitcoin
VanEck
Should one buy bitcoin?
The decision to buy bitcoin is based on one's own investment goals, time horizon and risk tolerance. Below are a few ideas to discuss with one's financial advisor:
Technology investments are often appropriate for aggressive investors with a long-term time horizon. Digital assets represent a new kind of technology, but they are mainly unproven. Unfortunately, publicly listed stocks are not a great way to own digital assets. The most direct play today is semiconductor stocks which are benefiting from blockchain-related demand.
Aggressive investors may think about allocating a small percentage of their portfolios to digital assets. For example, hedge fund manager Mike Novogratz has mentioned a 1% to 3% allocation may be appropriate.
If nervous about missing the run, consider taking a small initial position in digital assets and go from there. Going through the steps of buying bitcoin is a worthwhile learning experience in itself.
The trading range expectation is wide. We'd be surprised if bitcoin fell more than 80%, but it could get to a trillion dollar market cap — compared to a $7+ trillion market cap for gold — which is still up 4 to 5 times.
Disclaimer: Nothing contained herein is intended to be or to be construed as financial advice. Investors should discuss their individual circumstances with appropriate professionals before making any investment decisions.
Article continues below advertisement
Market Realist
A few users have substantial control over bitcoin
The sharp rise and fall in the price of bitcoin are mainly because ownership of the currency is heavily concentrated in just a few hands. According to Bloomberg, around 1,000 users control 40% of all the issued currency, while the top 100 bitcoin (SOXL) addresses hold about 17% of bitcoin. Some of these addresses may belong to the same person, thus increasing the ownership concentration further. The ownership of bitcoin in just a few addresses creates strong volatility in the market. If any of these investors sell, the market could plunge substantially.
Focus on investment goals
The demand for bitcoin mainly emanates from Asian countries, including China (FXI), Japan (EWJ), and South Korea (EWY). Lower volume from these countries could cause tremendous fluctuations in the price of bitcoin.
Bitcoin (SOXX) is still a new phenomenon. As it evolves further, the true impact of the currency could be felt in real-life scenarios, which could help us understand it much better.
With this in mind, many investors are considering their risk levels and long-term investment goals when investing in bitcoin.