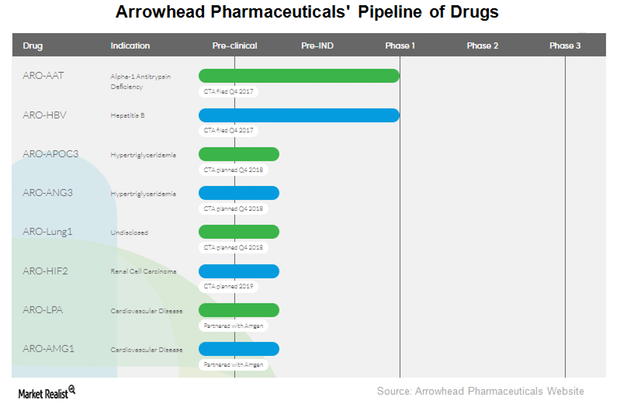 Taking a Closer Look at Arrowhead Pharmaceuticals' TRIM Platform
TRIM platform
Arrowhead Pharmaceuticals' (ARWR) prior efforts were aimed at clinical programs that utilized the dynamic polyconjugate (or DPC), also called the EX1 delivery vehicle.
In November 2016, the company announced that it would be discontinuing all clinical programs that utilized EX1 and refocusing its efforts on therapies that exclusively utilize Arrowhead's targeted RNAi molecule (or TRIM) platform.
Therapies based on the TRiM platform have demonstrated high levels of pharmacologic activity in numerous animal models that span several therapeutic areas. These therapies offer a number of potential advantages over prior competing technologies, such as simplified manufacturing, lower costs, multiple routes of administration, an ability to target multiple tissue types—including liver, lung, and tumor tissues—and a potentially reduced risk of intracellular buildup due to fewer metabolites from smaller molecules.
Article continues below advertisement
Drug pipeline
Arrowhead Pharmaceuticals' technology, characterized by the depth and versatility of RNAi, enables the company to target conditions in a multitude of therapeutic areas. These are disease targets that are otherwise not addressable by small molecules and biologics.
At present, the drugs in the company's pipeline are targeted for indications such as Alpha-1 antitrypsin deficiency, hepatitis B, hypertriglyceridemia, renal cell carcinoma, thrombosis, and cardiovascular disease.
ARO-AAT
ARO-AAT is under development for the treatment of liver disease associated with an alpha-1 antitrypsin deficiency. The drug is designed to target the Alpha-1 antitrypsin gene transcript and thereby reduce the production of the mutant AAT protein. This is a subcutaneously administered compound. Arrowhead has planned a clinical trial application (or CTA) of the drug in 1Q18. Alpha-1 antitrypsin deficiency (or AATD) is associated with liver disease in children and adults and pulmonary disease in adults.
Arrowhead has an agreement with the Alpha-1 project, the venture philanthropy subsidiary of the Alpha-1 foundation. The Alpha-1 project endeavors to support organizations that pursue cures for lung and liver diseases caused by AATD. Under this agreement, the Alpha-1 project has partially funded the development of ARO-AAT.
For 2018, Arrowhead Pharmaceuticals is expected to incur research and development expenses of $34.5 million. Its peers Gilead Sciences (GILD), Ignyta (RXDX), and Loxo Oncology (LOXO) are expected to incur research and development expenses of $3.5 billion, $106 million, and $119 million, respectively, in 2018.
Arrowhead Pharmaceuticals makes up ~0.05% of the iShares Nasdaq Biotechnology ETF's (IBB) total portfolio holdings.
In the next part of the series, we'll take a look at Arrowhead's hepatitis B drug candidate.