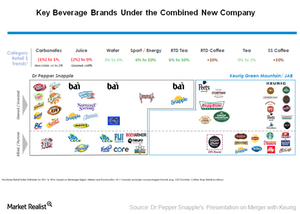 What Synergies Could the Dr Pepper Snapple–Keurig Merger Create?
Extensive portfolio
Keurig Dr Pepper, the new company to be formed by the proposed merger between Dr Pepper Snapple (DPS) and Keurig Green Mountain, is to have an extensive portfolio of hot and cold beverages. The combined company is expected to have a portfolio of 125 owned, licensed, allied, and partner brands, including Dr Pepper, 7 Up, Snapple, Bai Brands, A&W, Mott's, Sunkist, and Green Mountain Coffee Roasters.
The combined company could be better positioned to compete with giants such as Coca-Cola (KO) and PepsiCo (PEP). Both Coca-Cola and PepsiCo have been expanding their non-carbonated beverage portfolio to cater to changing consumer preferences.
Article continues below advertisement
Key synergies
In addition to an extensive product portfolio, the new company is expected to have strong distribution capabilities in North America. Dr Pepper Snapple relies on a multichannel distribution platform combining company-owned DSD (direct store delivery), partner DSD, and warehouse delivery capabilities. Keurig has a strong distribution network in traditional retail channels and a considerable presence in the e-commerce, office, and hospitality spaces. The enhanced distribution network is expected to extend the reach of products and provide greater household penetration for the leading brands.
The new company, Keurig Dr Pepper, aims to generate $600 million in annual synergies by 2021. These synergies are expected to be generated by bringing together warehousing and transportation functions across the combined network, delivering savings in the procurement of materials, and reducing duplications in operations.
At the closure of the merger, Keurig Dr Pepper will likely have a net debt of ~16.6 billion. The company expects to reduce its debt by generating strong cash flow. It aims to achieve a net debt-to-EBITDA[1.earnings before interest, tax, depreciation, and amortization] multiple of below 3.0x within two to three years of completion of the deal.