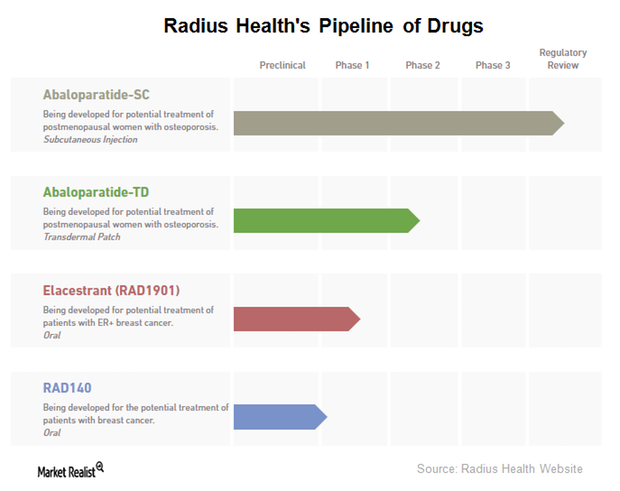 A Strong Pipeline of Drugs Bodes Well for Radius Health
Abaloparatide transdermal patch
The drug candidates in Radius Health's (RDUS) pipeline include an investigational abaloparatide transdermal patch for possible use in treating women with postmenopausal osteoporosis. Another candidate is the investigational drug elacestrant (or RAD1901), which is a selective estrogen receptor degrader for the treatment of hormone receptor-positive breast cancer and the treatment of vasometer symptoms in postmenopausal women.
The pipeline also includes the investigational drug RAD140, a nonsteroidal selective androgen receptor modulator, for its potential use in treating hormone receptor-positive breast cancer. In September 2017, Radius initiated a Phase 1 study of RAD140 in patients with locally advanced breast cancer.
Radius is expected to meet with the FDA in early 2018 to discuss a regulatory pathway for a pivotal study of abaloparatide-TD. The company is also in the middle of discussing a manufacturing agreement with 3M Company (MMM) related to the commercial supply of abaloparatide-TD.
Article continues below advertisement
Article continues below advertisement
Multiple opportunities with elacestrant
The FDA has granted fast-track designation to Radius Health's elacestrant breast cancer program. In June 2015, Radius announced early preclinical data that showed elacestrant was effective in shrinking tumors in combination with Pfizer's (PFE) palbociclib or Novartis' (NVS) everolimus. The combination of elacestrant with either palbociclib or everolimus showed anti-tumor activity to be greater than with either agent alone.
Collaboration with Takeda
In July 2016, Radius entered into a preclinical collaboration with Takeda Pharmaceutical to evaluate a combination of the former's elacestrant with the latter's investigational drug TAK-228 in Phase 2b development for treating breast, endometrial, and renal cancer with the goal of potentially exploring such a combination in a clinical study.
In January 2016, Radius entered into a worldwide clinical collaboration with Novartis to evaluate the safety and efficacy of combining the former's elacestrant with the latter's ribociclib.
Notably, Radius Health makes up ~1.5% of the SPDR S&P Biotech ETF's (XBI) total portfolio holdings.
In the next part of the series, we'll take a look some of the key licensing agreements entered into by Radius Health.