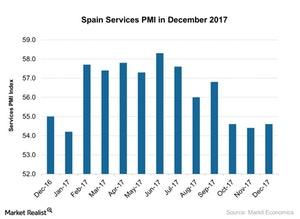 How Did Spain's Services PMI Perform in December 2017?
Spain's Services PMI in December
According to a report by Markit Economics, the final Spain services PMI stood at 54.6 in December 2017 as compared to 54.4 in November. The PMI figure didn't meet the preliminary market estimate of 54.7.
Spain's services PMI in December was affected by the following factors:
Production volume and output rose at a faster pace in December as compared to November 2017.
New business orders and export orders also improved at a marginally higher rate in December as compared to November 2017.
Employment in the service sector rose at a sharper rate in December 2017.
Article continues below advertisement
Performance of various ETFs in December
The iShares MSCI Spain Capped ETF (EWP), which tracks Spain's equity market performance, dropped 0.7% in December 2017. However, the iShares Europe ETF (IEV), which tracks Europe's (VGK) (EZU) (N100-INDEX) performance, rose 1.1% in December 2017.
The rising input cost in the past three months mainly affected the service output in those months. The weaker client demand in the service sector in December impacted the service PMI in that month. However, Spain's manufacturing PMI has been showing strong improvement since September 2017.
In the next part of this series, we'll analyze the services PMI for the Eurozone in December 2017.