A Look at Spain's Manufacturing Activity in December 2017
Spain's manufacturing activity in December According to Markit Economics, Spain's manufacturing PMI (purchasing managers' index) rose to 55.8 in December 2017 from 56.1 in November. Whereas the index had reached an 11-year high in November, in December, it missed the market estimate of 56.4. Despite the lower PMI figure, manufacturing activity remained strong. Spain's manufacturing PMI performance in […]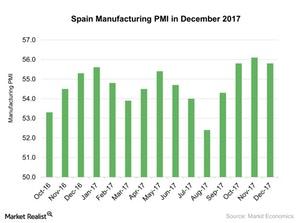 Spain's manufacturing activity in December
According to Markit Economics, Spain's manufacturing PMI (purchasing managers' index) rose to 55.8 in December 2017 from 56.1 in November. Whereas the index had reached an 11-year high in November, in December, it missed the market estimate of 56.4. Despite the lower PMI figure, manufacturing activity remained strong.
Spain's manufacturing PMI performance in December was mainly due to the following:
production volume and output improved, and robust client demand boosted investor confidence
new business orders showed solid improvement, while export orders improved marginally
employment in the manufacturing sector continued to rise
Article continues below advertisement
Article continues below advertisement
Performance of various ETFs in December
The iShares MSCI Spain Capped ETF (EWP), which tracks Spain's economic performance, fell 2.5% in December 2017. The Vanguard FTSE Europe ETF (VGK), which tracks Europe's (N100-INDEX) (EZU) (IEV) economic performance, rose 1%.
Spain's stronger business environment is improving investor sentiment. Consumers' purchasing activity is also improving, showing that domestic demand is picking up. In the next part of this series, we'll analyze the Eurozone's manufacturing PMI for December 2017.