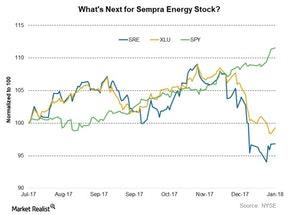 Is Sempra Energy the Smart Pick of 2018?
Sempra Energy
California-based Sempra Energy (SRE) has emerged as the largest utility by market cap in the state after PG&E Corporation's (PCG) wildfire fiasco. According to Wall Street analysts, Sempra Energy stock has a mean price target of $121.9 compared to its current market price of $108.5. This shows a potential gain of more than 12% going forward.
Among the nine analysts tracking Sempra Energy, three have recommended "strong buys," two have recommended "buys," and four have recommended "holds" on the stock. No analysts have rated the stock as a "sell" as of January 9, 2018.
Article continues below advertisement
Valuation
Sempra Energy stock appears to be trading at a fair premium compared to its peers. On January 9, 2018, it was trading at an EV-to-EBITDA (enterprise value to earnings before interest, tax, depreciation, and amortization) multiple of 14.4x compared to its five-year historical average of 13.0x.
Currently, utilities (XLU) (VPU) have an average valuation multiple of 11x. Sempra Energy seems to be trading at a premium compared to both its historical average and the industry average.
Sempra Energy is currently trading at a PE (price-to-earnings) multiple of 24x. Utilities, on average, have a PE multiple of near 16x. Thus, Sempra Energy stock looks expensive given its PE multiple.
Sempra Energy holds immense growth prospects considering its ongoing merger with Texas-based Oncor Electric. Sempra is already one of the fastest-growing utilities in the industry. With Oncor's contribution, Sempra's earnings growth is expected to accelerate even more, which could bode well for its above-average dividend growth going forward.
Read The S&P 500's Highest Dividend Growth Utilities: The Top 7 to learn more.