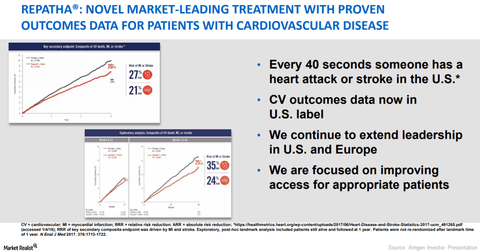 Repatha Could Significantly Drive Amgen's Revenue Growth in 2018
By Daniel Collins

Updated
Recent approval
In December 2017, the FDA approved Amgen's (AMGN) Repatha as the first PCSK9[1. proprotein convertase subtilisin/kexin type 9] inhibitor for the prevention of heart attacks, strokes, and coronary revascularization in adults with established cardiovascular disease.
Article continues below advertisement
FOURIER trial
In the FOURIER clinical trial,[1. Repatha's cardiovascular outcomes study] Repatha decreased the risk of heart attack by 27%, the risk of stroke by 21%, and the risk of coronary revascularization by 21%.
In the FOURIER clinical trial, adding Repatha to optimized standard statin therapy demonstrated a statistically significant 20% decrease in major adverse cardiovascular events (or MACE). These events were represented in the secondary composite endpoint of time to first heart attack, stroke, or cardiovascular death.
The FOURIER trial also demonstrated a statistically significant 15% decrease in the risk of the primary composite endpoint that includes hospitalization for unstable angina, coronary revascularization, heart attack, stroke, or cardiovascular death.
Among patients receiving Repatha in the FOURIER trial, 27% and 21% of patients, respectively, experienced reduction in the risk of heart attack and stroke. In the study, hospitalization due to unstable angina was not observed. Some standard statins administered with Repatha include Pfizer's (PFE) Lipitor and AstraZeneca's (AZN) Crestor.