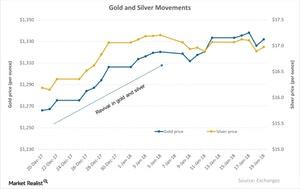 A Quick Look at the Precious Metals Revival, Miners' Performances
All precious metals shine
Precious metals prices shot up on January 19, 2018, with concerns looming over the shutdown the of the US government. Gold futures for January expiration were up 0.44% and ended the day at $1,331.9 per ounce after touching the day's high of $1,333. It seems gold may find some support close to the $1,320 mark. Gold's implied volatility was close to 9.9%, while its RSI (relative strength index) level was 69. This was the first weekly loss for gold in the past six weeks.
Silver also inched up 0.49% and closed at $16.98. The volatility in silver is 16.1%, which is much higher than the volatility in gold. Silver's RSI was 45.9.
Article continues below advertisement
Platinum remained the winner among the four precious metals, rising 1.1% and closing at $1,016.2 per ounce. Platinum prices have been soaring due to the seasonal weakness in supply from the top producers in South Africa. Palladium also followed its precious metals peers and surged ~0.47% to close at $1,101.1 per ounce.
In the next article, we'll detail the association of the US dollar with precious metals.
SPDR Gold Shares
The holdings of the most famous gold-based ETF, the SPDR Gold Trust ETF (GLD), rose 1.2% to 840.7 tons on January 18, 2018, compared to the previous day. It closed at $126.4 on January 19. Other gold-based funds that are in the limelight much like GLD have also seen price rises during the last month due to the revival of gold. Funds such as the PowerShares DB Gold ETF (DGL) and the VanEck Merk Gold Trust ETF (OUNZ) have risen 2.2% and 2.1%, respectively, on a trailing-30-day basis.
The mining shares that saw an up-day on January 19 included First Majestic Silver (AG), Yamana Gold (AUY), Coeur Mining (CDE), and Barrick Gold (ABX). These stocks rose 1.6%, 2.1%, 1.8%, and 0.97%, respectively.