Is the Pullback in Iron Ore Miners Based on Technical Indicators?
Among the stocks under review in this series, Vale SA (VALE) has given the highest trailing-three-month return of 36.4%, while Rio Tinto (RIO) has generated the lowest return of 15.4%.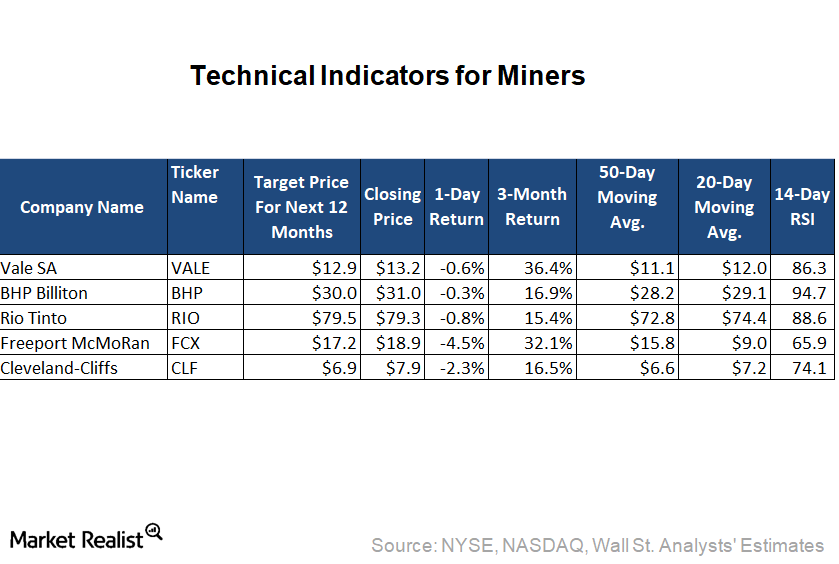 Stock returns
Earlier in this series, we analyzed iron ore miners' ratings and estimates. In this article, we'll discuss these miners' technical indicators.
The trailing-three-month returns of all of the miners we've discussed are positive. Vale SA (VALE) has given the highest return of 36.4%, while Rio Tinto (RIO) has generated the lowest return of the bunch (XME) at 15.4%. Vale's clearer vision, accompanied by the solid plan for future growth it unveiled at its investor day in December 2017, may have prompted the positive momentum in its stock. You can read Vale Day: How Much Value for Shareholders in 2018 and Beyond? for more information.
Article continues below advertisement
Article continues below advertisement
Traders and investors look at technical indicators when making market entry and exit decisions. Moving averages and the RSI (relative strength index) are among the most widely used technical parameters. Generally, an RSI of below 30 signifies an oversold position, and an RSI of above 70 is associated with an overbought position.
Moving averages
Based on their January 10, 2018, closing prices, Cleveland-Cliffs (CLF), BHP Billiton (BHP), Rio Tinto, and Vale are trading 19.2%, 9.7%, 8.9%, and 19.5%, respectively, above their 50-day moving averages. Their 20-day moving averages also indicate similar trends.
14-day RSI levels
A 14-day RSI level of 70 or above indicates an overbought situation for an asset, while a value of 30 or lower indicates an oversold position for an asset. As you can see in the graph above, all of the miners under our review are currently trading at values of higher than 70. The recent increase in commodity prices has spurred these miners' stock prices. While these stocks look slightly overvalued according to the indicators, there may not be an immediate pullback in prices.
With that said, while the current commodity (DBC) rally seems to be providing momentum to mining stocks, it's advisable to look at these investments from a more long-term perspective to see which stock can sustain a price advantage.