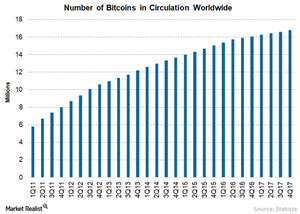 Why the Number of Bitcoins Is Limited
VanEck
Isn't money supply better controlled by an established, trusted source?
Paper or "fiat" money has a long history of being devalued by governments: Weimar Germany, the U.S. in the 1970s, Argentina, Brazil, and many other countries today. Contrarily, there is no central power which can arbitrarily decide to create more bitcoin. This transparency alone brings incredible value compared to fiat currencies.
Article continues below advertisement
Market Realist
Bitcoins are limited in supply
In the prevalent centralized economic system, there is no limit on the amount of money (UUP) (FXE) issued by central banks. In contrast, the concept of bitcoin is based on a limited supply. Much like precious metals (GLD), bitcoin (ARKW) cannot be created or curtailed randomly. Even if demand continues to rise, bitcoins will remain finite in supply. The founders of bitcoin, through a bitcoin generation algorithm, have already defined the number of bitcoins that are to be issued and the rate at which they have to be issued. It is the most important feature of bitcoin because it makes money supply more predictable and without any interference from central banks.
Decreasing supply algorithm
The founders have set a limit of 21 million bitcoins (SOXX) that can be mined over a period of time. Of those, 16.8 million are already in circulation. Since only 4.2 million remain to be mined, some people want to accumulate as many as possible. That explains the recent frenzy in the bitcoin market.
Bitcoins are designed based on a decreasing supply algorithm. The number of new bitcoins created will see a 50% reduction every 210,000 blocks until bitcoin issuance halts completely at 21 million. Since bitcoins are in limited supply, their value generally tends to rise.