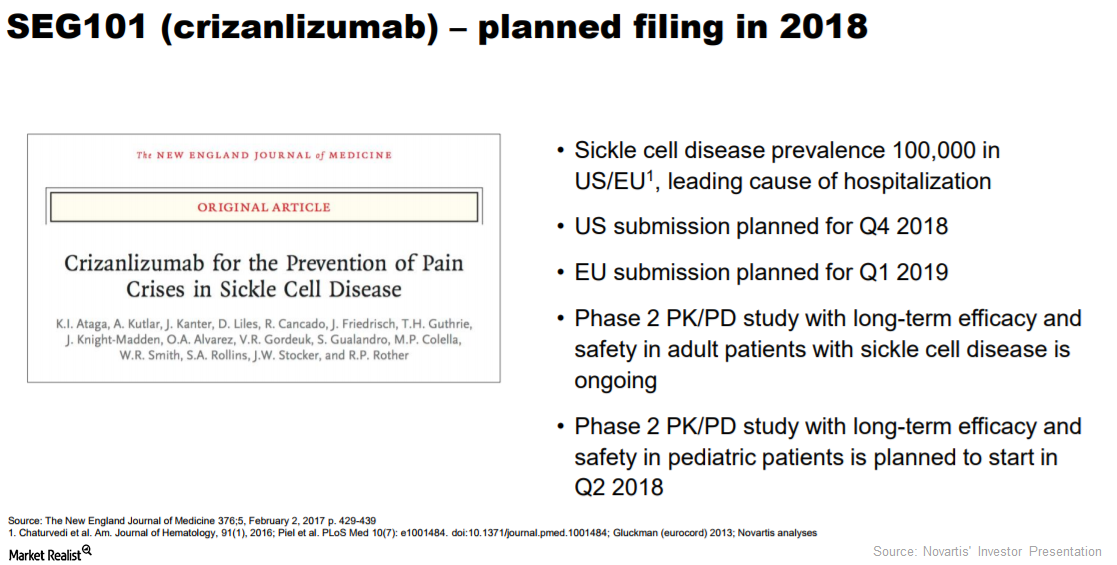 Novartis's Crizanlizumab Demonstrates Positive Results in Trials
About Crizanlizumab
Novartis's (NVS) Crizanlizumab is an investigational humanized monoclonal antibody that binds P-selectin on the covering of endothelial and platelet cells in blood vessels leading to P-selectin blockade. P-selectin drives the vasco-occlusive processes. Vaso-occlusive crises occur episodically when sickle-shaped red blood cells inhibit blood flow through blood vessels. The clinical inhibition of P-selectin may prevent painful vaso-occlusion in small blood vessels and maintain blood flow.
Article continues below advertisement
Sustain trial
In December 2017, Novartis presented the results from the post-hoc subgroup analysis of the phase two Sustain trial in which crizanlizumab demonstrated a delay in the time to first sickle cell pain crisis (or SCPC) in individuals with sickle cell disease compared to placebo therapy.
The subgroups considered for analysis of patients with sickle cell disease were as follows:
patients with two to four or five to ten SCPC events in the prior year to the trial
patients with HbSS genotype and non-HbSS genotypes
patients who were receiving or were not receiving hydroxyurea
Among the subgroup population, crizanlizumab 5 mg/kg per month dose augmented the estimated median time to first SCPC twofold compared to the placebo therapy. Patients receiving crizanlizumab who experienced two to four SCPCs in the previous year demonstrated time to first on-treatment pain crisis of 4.8 months compared to 1.6 months for patients on the placebo. Among patients with five to ten SCPCs in the previous year, the time to first on-treatment pain crisis was 2.4 months compared to 1.0 months for patients on the placebo.
In HbSS genotype patients, crizanlizumab demonstrated a 3.7x increase in estimated median time to first SCPC compared to placebo. HbSS patients on crizanlizumab demonstrated median time to first SCPC of 4.1 months compared to 1.1 months for patients taking a placebo.
Drugs for sickle cell disease include Bristol-Myers Squibb's (BMY) Hydrea and Droxia. Novartis's peers in the orphan drugs market include Pfizer (PFE), Amgen, and Celgene (CELG). In 3Q17, Pfizer, Amgen, and Celgene reported revenues of $13.2 billion, $5.8 billion, and $3.3 billion, respectively.
The success in the clinical trial could help Novartis progress through clinical trials and regulatory submissions for marketing approval. The Vanguard International Dividend Appreciation ETF (VIGI) invests ~48.4% of its total portfolio holdings in Novartis.