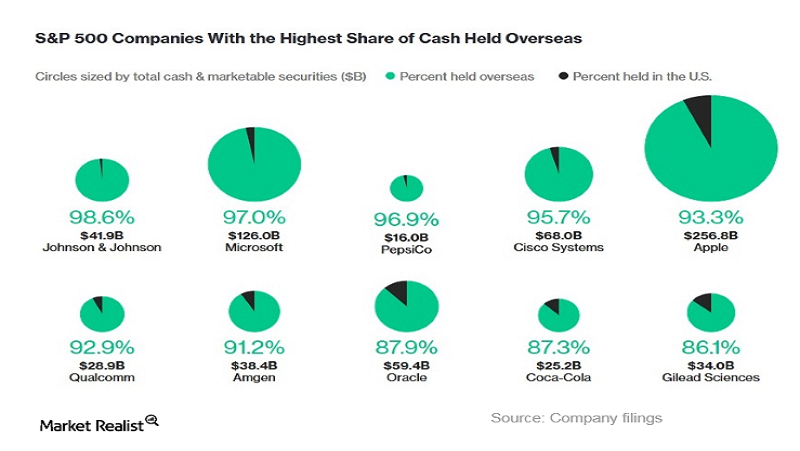 How Much Cash Is Amazon Holding Abroad?
More than 33% of Amazon's cash kept overseas
It is estimated that combined, US (SPY) multinationals are holding about $2.5 trillion in foreign profits abroad, where they aren't taxed by the US government. According to news reports, more than a third of Amazon's (AMZN) cash holdings are held overseas.
Amazon's cash holdings are estimated to be ~$26.0 billion, with 33.1% of this cash said to be held outside the US. This estimate equates to more than $8.6 billion.
Article continues below advertisement
Microsoft is keeping 97% of its cash overseas
Apple (AAPL) is said to hold 93.3% of its cash outside the US. Microsoft (MSFT), Cisco Systems (CSCO), Johnson & Johnson (JNJ), and PepsiCo have 97.0%, 95.7%, 98.6%, and 96.9%, respectively, of their cash holdings in overseas accounts.
This buildup of offshore cash by US multinationals has been encouraged by initiatives to minimize the tax burden on profits generated abroad. Until the overhaul of US tax law in December, the IRS taxed repatriated foreign profits at the rate of 35.0%. This high tax rate discouraged many companies from bringing their foreign earnings home.
Amazon repatriating foreign profits
Under the new tax law, US companies would have their foreign profits taxed at 8.0% or 15.5%, depending on the type of profits. Foreign profits in the form of liquid cash will be taxed at 15.5%, while invested foreign profits will be taxed at 8.0%. The tax rates on foreign profits apply whether the earnings are repatriated to the US or kept overseas.
The lower tax rate may encourage Amazon to repatriate ~$8.6 billion of its overseas cash. We'll see what the company has to say about this issue when it reports its 4Q17 earnings.