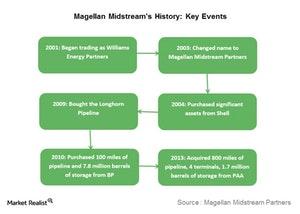 Magellan Midstream Partners: A Brief History
Magellan's history
Magellan Midstream Partners (MMP), which began trading in 2001, has grown through various asset acquisitions and expansion projects over the years. Magellan was formerly a part of Williams Companies (WMB). The company started trading as Williams Energy Partners in 2001, and changed its name to Magellan Midstream Partners in 2003. In 2004, the company expanded further through the purchase of assets from Shell (RDS.A), including more than 3,000 miles of refined products pipeline.
Article continues below advertisement
Article continues below advertisement
Another key addition to Magellan Midstream's assets was in 2009, when it purchased the Longhorn pipeline. This pipeline has played a key role in Magellan's growth in the last few years. The company purchased significant assets from BP (BP) in 2010. In 2013, Magellan acquired ~800 miles of refined petroleum product pipeline and other assets from Plains All American Pipeline (PAA).
Asset base
Today, Magellan Midstream owns:
a 9,700-mile refined product pipeline system
a 1,100-mile ammonia pipeline system
2,200 miles of crude oil pipeline
crude oil storage facilities with a total capacity of ~26 million barrels
five marine terminals with a total capacity of ~26 million barrels
Magellan's refined products pipeline system is the longest in the United States. The system has access to nearly 50% of the nation's refining capacity. It can store ~100 million barrels of petroleum products. In the next part of this series, we'll analyze the performance of Magellan Midstream Partners' segments.