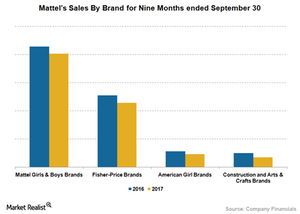 Mattel's Year-to-Date Sales by Brand
Sales declined across all brands
As you can see in the graph below, Mattel's (MAT) sales declined across all its brands for the nine-month period that ended on September 30, 2017. Most of the decline was driven by Toy's "R" US filing for bankruptcy, which resulted in gross sales reversal and continued underperformance of Toy Box, coupled with other brands.
Gross sales for Mattel Girls & Boys Brands, the company's largest segment by sales, fell 6.0% for the nine-month period ended September 30. The company's global gross sales for the Barbie brand remained muted compared to the prior-year period, reflecting low demand and a change in the DVD entertainment strategy that adversely impacted sales. Meanwhile, gross sales for Other Girls brands plunged on a YoY (year-over-year) basis, reflecting sluggishness in the DC Super Hero Girls and Monster High brands. Worldwide gross sales remained weak for the Wheels category while the Entertainment business showed resilience, thanks to the higher sales in CARS and offset by declines in WWE and Minecraft.
Article continues below advertisement
Worldwide sales for Fisher-Price Brands fell 11.0% during the nine-month period, reflecting declines in infant products and weakness in Thomas & Friends. Gross sales for its American Girl Brands fell 18.0% as lower licensing income took a toll. Moreover, the prior-year period benefitted from the external distribution channels.
Sales for Mattel's Construction and Arts & Crafts Brands nosedived with a decline of 30.0% for the nine-month period ended September 30, 2017. The majority of the fall was driven by tepid sales for MEGA BLOKS licensed and Preschool products.
Peer performance
In comparison, rival Hasbro (HAS) is witnessing improved sales across all its product segments. For the nine-month period ended October 1, 2017, Hasbro's sales jumped 10.0% in Franchise Brands, which includes Transformers, Nerf, and Monopoly. Plus, the company's Partnered Brands (including Star Wars, Beyblade, and Disney Descendants), Gaming, and Emerging Brands (including Furreal Friends) also remained strong, reflecting improved performance in the US (SPY), Canada, and international markets.
Outlook
Mattel's sales across most of its brands are expected to remain weak in the near term, given the disruptions following the Toys "R" US's bankruptcy and retailers' tighter inventory management. However, Mattel's digital initiatives, especially in China (FXI), focus on innovation pipeline, SKU rationalization, and expanded distribution that could help drive gross sales in 2018.