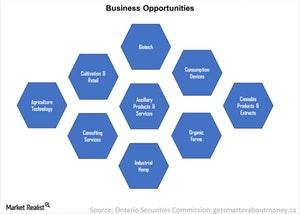 The Marijuana Ecosystem's Potential Business Opportunities
Business opportunities
In the previous part of this series, we discussed Constellation Brands' (STZ) investment in the marijuana industry. Given that legislative approval is the strongest driving factor behind the boost in the marijuana industry, companies have rushed to capitalize on the wave. Below, we discuss some of the business opportunities that could develop as a result of marijuana legalization.
Article continues below advertisement
Marijuana ecosystem
In the above chart, we see nine business opportunities that may result from marijuana legalization identified by the Ontario Securities Commission. These include agriculture technology, which deals with equipment, fertilizers, and lighting systems required to grow marijuana. Scotts Miracle-Gro (SMG) is an active player in this agriculture technology branch. Cultivation and retail would include marijuana growers. Consulting services would include companies that would provide legal, financial, technology, and other services to ensure that business runs smoothly.
Biotech includes companies that focus on the medical side of marijuana—companies (VTI) such as Insys Technology (INSY), Corbus Pharmaceuticals (CRBP), and AbbVie (ABBV). Ancillary products and services include businesses that would provide product and services such as lab tests, breathalyzers, and insurance to growers and packaging companies. Industrial hemp includes the production of paper, clothing, fuel, and other products created from hemp. Hemp is a variety of marijuana grown for industrial applications.
Consumption devices include businesses that produce devices that aid the consumption of marijuana. Organic farm includes growers of organic marijuana plants, and lastly, cannabis products and extracts include the extraction and sale of derivative products from the marijuana plant.
Given the strong ecosystem and business opportunities, we'll discuss what they could mean for a country.