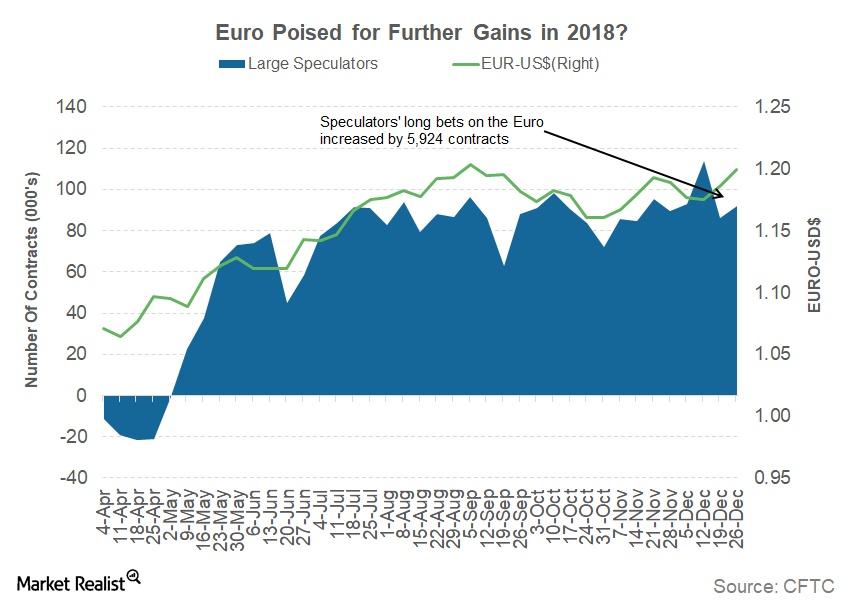 What to Make of the Surprising Gains in the Euro in 2017
Euro continued to gain from strong ECB outlook
The euro–dollar (FXE) pair closed 2017 at 1.1998. It appreciated by 13% against the US dollar (UUP) and posting close to 10% gains against the other major global currencies. The possible explanation for the euro's rise could be that investors remained focused on the economic developments observed in Germany and other constituent countries and ignored political disturbances.
Article continues below advertisement
Euro speculators increase bullish bets
According to the latest Commitment of Traders report, released on December 29 by the Chicago Futures Trading Commission, speculator increased their long euro positions by 5,924 contracts last week.
The total net speculative bullish positions on the euro (EUFX) have increased from 86,224 contracts in the previous week to 92,148 on December 26. An increase in large speculator positions could be interpreted, as investors are expecting further gains in the shared currency as 2018 sets in.
Outlook for the euro
The political troubles of Europe that existed in 2017 are likely to continue in 2018. Spain, Italy, and Germany could seek to mitigate the political uncertainties at the earliest, but these issues have not impacted the euro and are unlikely to do so in 2018.
The European Central Bank is likely to remain accommodative and could stick to its policy normalization schedule. If the currency runs too high, there could be a possibility of verbal interventions from the ECB. The ECB has taken this action in the past, as it expects a stronger euro to dent export demand from the region.
For the week ahead, European inflation data and the German employment data are key economic releases and are not likely to have a major impact on the euro.