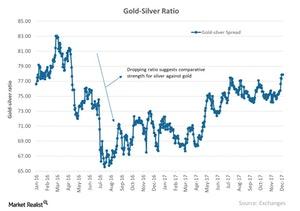 A Look at the Gold Spreads at the End of 2017
Spread analysis
When we analyze the precious metal market, it's crucial that we take a brief look at the performance of these metals in relation to each other. Because gold is the most important precious metal, we'll look at the spreads with gold as the base. In this article, we'll discuss the gold-silver, gold-platinum, and gold-palladium spreads. These three spreads stand at 77.3, 1.4, and 1.2, respectively.
A gold-silver spread of 77.3 suggests that it requires almost 78 ounces of silver to buy a single ounce of gold. Similarly, nearly 1.4 ounces of platinum equal one ounce of gold, and 1.2 ounces of palladium equals one ounce of gold.
The chart above shows the performance of the gold-silver spread over the past two years. The fall of the spread in mid-2016 indicates silver's relative strength against gold. A rise in the spread means that gold is becoming relatively strong compared to silver, platinum, and palladium.
Article continues below advertisement
RSI reading
The RSI (relative strength index) levels of the gold-silver, gold-platinum, and gold-palladium spreads are 34, 44, and 32, respectively. An RSI level of above 70 indicates a fall in price, while an RSI level of below 30 indicates a probable rise in price.
Some mining funds that closely track precious metals are the iShares MSCI Global Gold Min (RING), the Global X Silver Miners (SIL), the ETFS Physical Platinum Shares (PPLT), and the ETFS Physical Palladium Shares (PALL). They've seen YTD (year-to-date) rises of 9.3%, 0.73%, 0.42%, and 49.1%, respectively.
Most mining stocks witnessed a rise in their price on Tuesday due to the revival of precious metals. Coeur Mining (CDE), Wheaton Precious Metals (SLW), AngloGold Ashanti (AU), and Cia De Minas Buenaventura (BVN) rose 2.3%, 0.68%, 2.2%, and 2.1%, respectively.