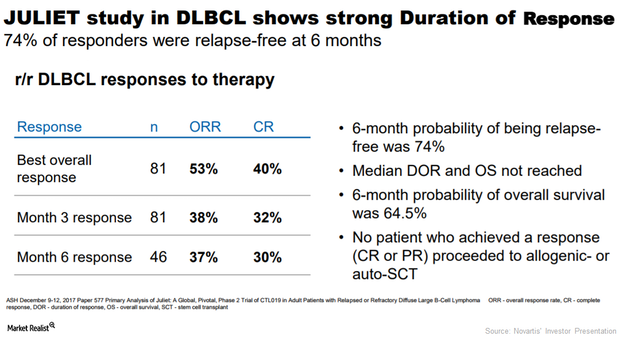 Key Updates on Novartis's Kymriah
Recent developments
In December 2017, Novartis (NVS) presented updated results from the Juliet clinical trial, which demonstrated sustained responses of Kymriah (tisagenlecleucel) for the treatment of adults with relapsed or refractory diffuse large B-cell lymphoma (or DLBCL).
Article continues below advertisement
Juliet trial outcomes
The clinical trial led by researchers from the University of Pennsylvania on Kymriah demonstrated an overall response rate (or ORR) of 53% with 40% of patients achieving a complete response (or CR) and 14% of patients achieving a partial response (or PR) among 81 patients who were infused with Kymriah with over three months of follow-up or prior discontinuation.
In the Juliet trial, 32% of patients achieved CR at month three, while 6% of patients achieved PR. Also, the CR and PR rates were consistent among prognostic subgroups including patients who underwent prior autologous stem cell transplant and patients with a subtype of DLBCL known as double-hit lymphoma.
In the Juliet trial, the six-month relapse-free probability was 74%, while the trial didn't reach the median duration of response. In the trial, 58% of patients experienced cytokine release syndrome (or CRS) among all treated patients, while 23% of patients experienced grade 3/4 CRS. In April 2017, the Food and Drug Administration granted Breakthrough Therapy Designation to Kymriah based on the results of the Juliet trial.
About DLBCL
DLBCL is one of the most common types of non-Hodgkin lymphoma. The American Cancer Society (or ACS) estimates that about 74,680 new cases of non-Hodgkin Lymphoma will be diagnosed in the United States in 2018. ACS also estimates 19,910 deaths in 2018 due to non-Hodgkin Lymphoma. Studies estimated that DLBCL accounts for around 30% to 40% of non-Hodgkin Lymphoma patients.
Studies demonstrated that 10% to 15% of individuals with DLBCL fail to respond to initial therapy or relapse within three months of therapy. Also, around 20% to 25% of patients with DLBCL relapse after initial response to therapy.
Some other drugs for DLBCL under investigation include Takeda Pharmaceuticals' (TKPYY) Alisertib, Celgene's (CELG) Revlimid, and Seattle Genetics' (SGEN) Adcetris. The Vanguard FTSE Developed Markets ETF (VEA) invests ~2.4% of its total portfolio holdings in Novartis.