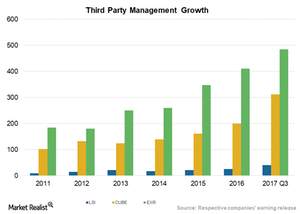 Key Drivers of Extra Space's 2018 Performance
Technology
Extra Space (EXR) uses search engines, pay-per-click, and social media for customer acquisition. For pricing, it uses algorithmic revenue management and for decision making, it utilizes analytics, data, and optimization.
Article continues below advertisement
Geographical diversification
Extra Space (EXR) operates throughout the US, which helps it to mitigate the cyclical nature of the storage industry.
Redevelopment activities
EXR is in the process of modifying its portfolio by taking inventory to catalog its portfolio expansion. This process selects projects after they are ranked in the order of ease of execution. However, there is only limited capital allotted for this initiative.
Article continues below advertisement
Acquisitions
During 3Q17, EXR closed $140 million in wholly owned acquisitions and invested $50 million in joint ventures and an additional $20 million in investments for a total of $175 million. The company had $240 million in contracts at the end of 2017. EXR is focused on acquiring properties that create long-term value.
With the present opportunities, the company put 36 property portfolios valued at ~$300 million under contract, which significantly improved its portfolio quality. These acquisition activities not only help generate value streams but also increase the global footprint and create a pipeline for the future.
Portfolio shift
Extra Space (EXR) holds 12% of its total properties in the form of joint ventures and 32% managed for third parties—the largest in the industry. These partnerships open different sources of income like fees and help create an acquisition pipeline.
In 3Q17, its competitors included CubeSmart (CUBE), Life Storage (LSI), National Storage Affiliates (NSA), and Public Storage (PSA). CUBE had 312 total stores managed for third-party owners while LSI had 14 and EXR had 485.
EXR forms ~2.0% of the Real Estate Select Sector SPDR ETF (XLRE).