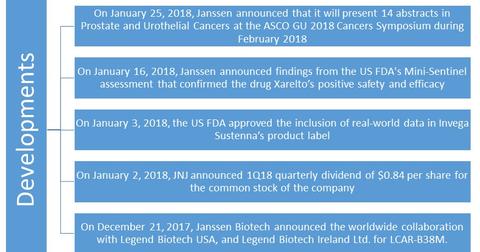 Johnson & Johnson's Recent Developments
By Mike Benson

Updated
Recent developments
Johnson & Johnson (JNJ) reported growth in revenues across its three segments—Pharmaceuticals, Consumer Health, and Medical Devices—during 4Q17 and fiscal 2017. The chart below shows the recent developments for Johnson & Johnson.
Article continues below advertisement
Developments
The recent developments for Johnson & Johnson (JNJ) across its three segments follow:
On January 25, 2018, Janssen Pharmaceutical Companies of Johnson & Johnson announced that it plans to present 14 abstracts for investigational and approved compounds in prostate and urothelial cancers at the American Society of Clinical Oncology – Genitourinary 2018 Cancers Symposium in February 2018.
On January 16, 2018, Janssen announced findings from the FDA's Mini-Sentinel assessment that confirmed the drug Xarelto's positive safety and effectiveness, based on the data from ROCKET AF study, which is its Phase 3 clinical trial. The FDA report also confirms the lower risk of ischemic stroke in Xarelto compared to Warfarin.
On January 3, 2018, the FDA approved the inclusion of real-world data in Invega Sustenna's product label, based on the PRIDE study. This study demonstrated superior effectiveness of the Invega Sustenna compared to oral antipsychotics. The time to first psychiatric hospitalization or arrest and incarceration was much longer in patients treated with Invega Sustenna compared to oral antipsychotics.
On January 2, 2018, JNJ announced its 1Q18 quarterly dividend of $0.84 per share for the company's common stock. The ex-dividend date is February 26, 2018.
On December 21, 2017, Janssen Biotech announced the worldwide collaboration with Legend Biotech USA and Legend Biotech Ireland Ltd., both subsidiaries of Genscript Biotech. The collaboration is to develop, manufacture, and commercialize LCAR-B38M, a chimeric antigen receptor T-cell drug candidate that targets B-cell maturation antigen.
The iShares US Pharmaceuticals ETF (IHE) holds 9.7% of its total investments in Johnson & Johnson (JNJ), 7.8% in Merck & Co. (MRK), 5.5% in Eli Lilly (LLY), and 5.3% in Allergan Plc (AGN).