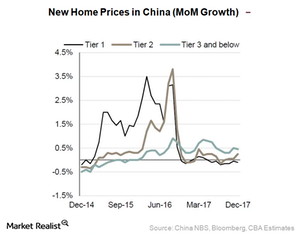 Iron Ore: China's Property Market Shows Signs of Weakness
China property sector
It's vital for iron ore investors to track movements in the Chinese real estate market (TAO). This sector constitutes more than 50% of the total steel consumed in the country.
In this article, we'll discuss the Chinese property market indicators to gauge their outlook.
Article continues below advertisement
Real estate investment growth
In 2017, the total property investment in China grew 7% year-over-year (or YoY), which is 0.1% higher than the growth record a year earlier. The investment in residential buildings grew 9.4% YoY.
The newly started floor space also grew 7% YoY in 2017.
House prices
In December 2017, the growth in the cost of new housing in China accelerated for the first time in the last 13 months.
The prices for new homes in China rose in December after cooling off in November 2017. The average cost of new housing grew in China's 70 major cities grew 5.3% YoY in December. On a YoY basis, home prices grew in 57 out of the 70 cities surveyed, compared to 50 cities in November.
Chinese authorities are making efforts to slow down the country's overheated property market. UBS believes the government's efforts should bear fruit in 2018. The firm mentioned that after the authorities cracked down on speculative buying, real estate purchases slowed down. CLSA's (Credit Lyonnais Securities Asia) property market analyst in Hong Kong, on the other hand, believes China's property prices are going up—not just in 2018 but possibly in the next three to five years.
A crackdown by Chinese authorities on the property market could mean tougher a time ahead for iron ore miners. While Vale (VALE) is the largest iron ore producer based out of Brazil, BHP (BHP)(BBL), Rio Tinto (RIO), and Cleveland-Cliffs (CLF) have their major seaborne operations in Australia.