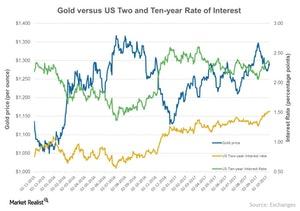 Interest Rate versus Gold: Interest Rate Wins Again
No interest payments
Gold is known to track the moves of the Federal Reserve. In mid-December 2017, when the Federal Reserve increased the rate of interest on Treasuries, gold fell significantly; however, it revived after that.
Gold is a non-yield bearing asset that reacts negatively to rises in the interest rate. As higher interest is offered on US Treasuries, more investors are typically driven to the higher yields, hence deserting precious metals. The inverse relationship between the two is shown below.
Article continues below advertisement
Comments by one of the Feds
The fall in gold and other precious metals came after Raphael Bostic, president of the Federal Reserve Bank of Atlanta, mentioned on Monday that two rate hikes might be needed in 2018. That could be due to weak price pressures. The market will be carefully eyeing the upcoming payroll data on Friday, January 12, which could sway the monetary policy decisions.
The above chart compares the price movement in gold to the US two-year and ten-year rate of interest (SHY) (IEF). The changes in gold and silver can also be tracked by the ETFS Physical Swiss Gold (SGOL) and the ETFS Physical Silver (SIVR), which fell 0.06% and 0.75%, respectively, on Tuesday, January 9, 2018.
Among the mining shares that joined the fall in prices for precious metals are Newmont Mining (NEM), Franco-Nevada (FNV), Alacer Gold (ASR), and AngloGold Ashanti (AU), which fell 0.65%, 0.05%, 0.45%, and 1.2%, respectively.