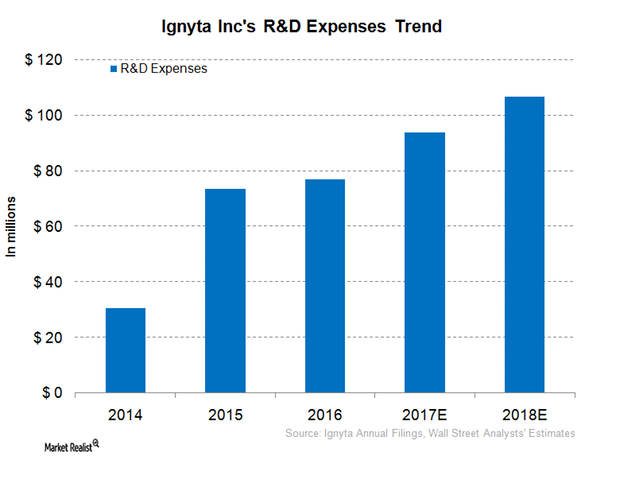 Inside Ignyta's Financial Performance
R&D expenses
Ignyta (RXDX) is a clinical stage company and does not generate any operational revenues.
The company's R&D (research and development) expenses increased from $16.6 million in 3Q16 to $21.7 million in 3Q17, a 30% rise. The increase was attributed to an increase in external clinical development and manufacturing and control costs related to the development of entrectinib.
Its general and administrative expenses increased at a slower pace at 6%, from $6.1 million in 3Q16 to $6.5 million in 3Q17.
Subsequently, its net loss increased 23%, from $23.3 million in 3Q16 to $28.6 million in 3Q17.
Article continues below advertisement
Article continues below advertisement
Cash flows
Cash is the lifeblood of companies, and for clinical stage companies such as Ignyta, its importance is paramount. Ignyta used up $72.3 million of cash in operating activities in 3Q17, which was similar to $71.4 million in 3Q16. The cash used for investing activities was $6.8 million for 3Q17 compared to $5.3 million in 3Q16.
This cash burn is supported by the company's raising liquidity through a combination of debt and equity offerings in fiscal 2017 and 2016, albeit on steep terms. We'll explore that point more in the next part of the series.
Currently, Ignyta's ratio is 6.10x. The ratios for peers Pfizer (PFE), Novartis (NVS), and Loxo Oncology (LOXO) are 1.40x, 1.10x, and 21.60, respectively.
Ignyta makes up 0.74% of the PowerShares DWA SmallCap Momentum ETF (DWAS).
In the next part of the series, we'll take a look at the key risks facing Ignyta in 2018.